Two Major Brands Get Social
05.20.10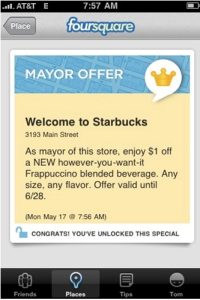 Two major companies announced an emphasis on new social media initiatives within hours of each other this past Monday. NBC announced its Fan It program, and Starbucks became the first company to offer nationwide discounts for "mayors" on Foursquare.
Harnessing the power of Facebook, Twitter, MySpace and Foursquare, Fan It hones in on what people are already doing and rewards them for it. The idea is simple: "Like our shows. Earn points. Get rewards." Once users sync their accounts with Fan It, they earn points by watching videos, sharing links, playing games and updating their statuses. Similar to Foursquare's premise, viewers can redeem points for badges, exclusive videos and merchandise. The reason this idea works is because NBC is rewarding users for things they are already doing online, and as a result, reinforcing – and encouraging – network-specific content.
Starbucks, on the other hand, is using a more centralized approach. Focusing only on Foursquare, the coffeehouse chain unveiled the first-ever nationwide mayor special: "$1 off a new however-you-want-it Frappuccino blended beverage. Any size, any flavor." Just like NBC, Starbucks is rewarding customers for something they are already doing (in this case, visiting the store), as they support their brand and create a stronger following.
If you are still wondering whether social media is a fad, consider this: The country's oldest major broadcast network and the largest coffeehouse company in the world are using these tools to their advantage … can you do the same?
Image source: Mashable.com