C.S. Lewis' Top-Secret Mission Had War-Time Elements of PR, Marketing
01.05.16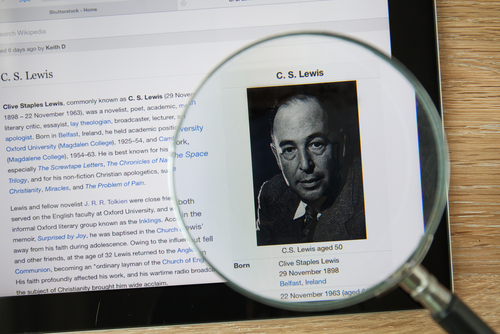 By Rob Humphreys
Most people might recognize C.S. Lewis as author of The Chronicles of Narnia series. To others, he's one of the 20th century's greatest theologians and academic minds.
Now, according to a recent story by Harry Lee Poe in Christianity Today, Lewis can also be counted as a secret agent for the British government during World War II. For even the most die-hard Lewis historians, and there are many, this connection to MI6 comes as a shocking revelation – but one that makes sense, given newly unearthed evidence.
So, why am I writing about this on the website of a public relations and marketing agency?
Because it's the nature of Lewis' top-secret mission that I find so fascinating, as it has direct ties to something our industry is especially good at – crafting compelling messages that influence people in profound ways. Yes, Lewis – master of the English language – can best be described as a literary secret agent, using the power of his pen (and voice) to fight Hitler's totalitarian regime.
For a fellow writer like me, that's pretty cool. Here's how it all went down.
In 1940, the German war machine was sweeping through Western Europe and Scandinavia. But the Nazis had yet to send troops to Iceland, a strategic island in the North Atlantic that would have been an ideal naval and air base for German attacks on England. Instead, the British launched a surprise invasion and got to Iceland first.
As Poe writes in his article, holding the island "depended upon the goodwill of the people of Iceland, who never had asked to be invaded by the British. … This was the strategic situation in which C.S. Lewis was recruited. And his mission was simple: To help win the hearts of the Icelandic people."
At the advent of World War II, Lewis was already a popular Oxford professor and one of the most influential writers of his day. He also happened to be fluent in the Icelandic language and steeped in its heritage. Even though Lewis seems to have taken this secret to his grave, British intelligence approached him to record a clandestine message that would be broadcast to the people of Iceland.
"And what did an Oxford don have to say that might help turn the tide of war in Britain's darkest hour?" Poe writes. "He spoke on the subject 'The Norse Spirit in English Literature.' Lewis provided a touchstone between the Norse people and the English."
That's right, "The Norse Spirit in English Literature." Lewis wasn't the hard-dashing, "shaken, not stirred" precursor to James Bond. He was more like someone trying to market a political alliance – based on shared culture and values – that could help save the free world. And he did it through Viking-era literature, of all things.
I won't go into all the details here, but in his article Poe does a fabulous job of documenting Lewis' logic and PR-like approach. He also explains how this new information finally came to light and what it might mean for Lewis' already-monumental legacy.
Rob Humphreys is senior writer and editor at Costa Communications Group.
Bring Your Story to Life on Camera
09.16.14
The idea of complementing media pitches and imagery is not a new one. If anything should serve as a reminder of the power of the camera, let's not forget the more than $100 million … and counting … that have been collected by ALS since the start of its Ice Bucket Challenge.
September is Hunger Action Month, and instead of another blog highlighting facts, we thought we'd share a couple videos that speak to the importance of access and the nutritious value of meals. Hope you enjoy and don't forget to wear your orange to show your support!
Predicting the Future of Media
01.21.14
By Mary Tindall
Staying on top of media trends is a vital part of our job as public relations professionals. That's why we were fascinated to read Nieman Journalism Lab's journalism predictions for 2014.
Released annually, the Nieman list sheds light on how news is produced and consumed in the digital age. From mobile-first design to wearable tech, the way people access information is rapidly evolving.
In turn, these realities shape the way PR professionals interact with journalists. For example, the rise of the fluid beat structure could mean that we're pitching reporters who cover "sets of evolving ideas rather than fixed places or topics." It's intriguing to imagine the possibilities.
You can read the full set of predictions here. How do you think media will evolve in 2014?
We Help You "Help a Reporter Out"
04.27.11
At Linda Costa Communications Group, it's no secret that we are big fans of Peter Shankman's Help a Reporter Out (HARO). Dubbed the "largest source repository in the world," HARO sends out approximately 210 media opportunities daily. For down-to-the-wire deadlines, it's a journalist's best friend … and a PR professional's dream. But, with more than 120,800 active sources receiving the thrice-daily email, competition can be stiff for that coveted placement.
When you find a fitting query, having the perfect resource is just half the battle. The following are a few of our favorite HARO tips that we've learned from personal experience:
Keep it short. When you mix a tight deadline with a high volume of replies, multiple paragraphs of text – while relevant and informative – might be overlooked in favor of short and to-the-point bullets. (In fact, People Magazine's Steve Helling is a big advocate of the 250-word pitch.)
Provide all the information. Some of the most coveted queries request particular information. Often times you'll be asked to include common details, like the name of the source, company name and contact information. But sometimes, the reporter might want even more information – like a headshot, the source's age or highly specific quotes and comments. When compared to another expert resource, if your email lacks any of the requested information, it might be the difference between being included and being ignored.
Subject lines are valuable. Use them wisely. Our friends at HARO automatically add "New Pitch –" to your email's subject line (at least when you reply to an auto-generated HARO email, like "queryxyz@"). Don't waste valuable subject line real estate by including something similar – instead, get right to the point.
Omit bold text to avoid "screaming." In the past, I've used bold text to call out specific statistics and relevant information when responding to a HARO query. Sounds like a smart idea, right? When a reporter replied to me recently, they included my original pitch and I was surprised to see that my "courtesy" bolding had actually translated into SCARY CAPITALIZATION. Eek! Often times, people read capitalization as screaming … which is definitely not something I want to portray to a reporter.
For more best practices – from Peter, himself – visit Shankman.com. Please share your own favorite tips in the comment section below.
Online or Offline News – What's Your Preference?
11.01.10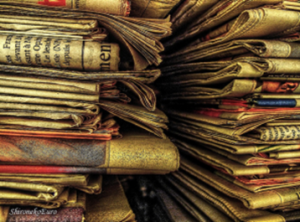 During my impressionable college years, I vividly remember sitting in a lecture hall and being shocked by the words that came out of my professor's mouth: "One day, newspapers will be non-existent." She went on convincing us that with the multitude of free, online news sources, we eventually wouldn't want or need to read an actual print edition.
This threw me for a loop. I never imagined that sites like Google News and other customizable news networks may completely dismiss the need for papers altogether. My first concern was: Where are they going to put the coupons? But, my question was soon answered by the rise of Groupon and other daily discount sites.
This week, the Wall Street Journal published an article that highlighted the decline of many highly circulated national newspapers – further evidence that my professor may have been clairvoyant.
To be honest, I typically prefer getting my news online. It's easier to scan headlines; I don't have to worry about re-folding the paper correctly; and I don't get ink on myself. How do you choose to receive the latest headlines?
Photo credit: ShironekoEuro
Verify. Verify. Verify. Then Trust.
07.23.10
Anyone who has ever worked for me will tell you that I am a demanding editor. When it comes to writing, I expect perfection. But, that doesn't just mean that I freak out when "it's" is used as a possessive – or when "affect" is erroneously substituted for "effect." It also means that I don't believe what people say, just because they say it. And I don't trust information that I haven't vetted. Anywhere. Not in our office. Not in the media. And certainly not on the Internet.
Given free speech and all, people have the right to use blogs to promote their personal points of view. And in doing so, they can say hateful, despicable things. They can use innuendo at will and lie with abandon. It's all protected under the First Amendment.
But, here's the rub. Bloggers, if you want to "rage against the machine" or spew out all the bile that's in your system, have at it. My problem is not as much with you – or even with the "news" organizations that use you as "reliable" sources. My concern is with the people who actually believe you. Blindly. Naively. Without thinking. Without verifying.
Nothing illustrates this any better than the Shirley Sherrod case, which has dominated this week's news cycles. The former official at the U.S. Department of Agriculture was forced to resign from her position after a blogger appears to have manipulated and edited video tape that presented Ms. Sherrod as a racist. The tape was aired by a news network and portrayed as truth. As a result, the USDA asked Sherrod to step down – before anyone (including the NAACP, her boss or the White House staff) bothered to view the entirety of her speech. Had the proper fact-checking been done, it would have been crystal clear that the clip was edited out of context and that it bore no resemblance to the truth. Meanwhile, the network that broke the story accepted no responsibility for shoddy reporting and simply reframed it to redirect their audience's attention. Shame on everybody involved.
Lots of folks are culpable here, and there's plenty of blame to spread around. But, this is, I believe, a teachable moment. Lessons to be learned: 1) Opinion isn't fact. Recognize the difference. 2) Don't allow yourself to be duped. Do your own research; dig as deep as you can to identify the source. Then find out if that source is pushing a particular agenda. 3) Adopt a healthy level of skepticism. Understand that many bloggers simply masquerade as "journalists" and be aware that news organizations can and do manipulate the truth. 4) Balance your knowledge portfolio by taking the time to read in-depth articles penned by good, old-fashioned reporters writing for real newspapers or magazines. Sadly, there are fewer of them around than there should be, but their insight will give you much-needed perspective. 5) Use common sense. When you hear every talking head on radio and television – plus a litany of politicians – using exactly the same catch phrases on the same day, it ought to raise a red flag. Don't think for one second that they haven't been fed those talking points. I mean, come on.
So when it comes to making a pitch, promoting a client – or just expanding your own knowledge base – today's reality dictates this: Verify. Verify. Verify. Then trust.
This stuff keeps me up at night. How about you?
Linda Costa is president and founder of Linda Costa Communications Group – a wordwise company. This is her first blog post.
Managing the Chaos: Top Media Outlets Define Boundaries for Social Media Savvy Journalists
11.05.09
The divide between media outlets continues to grow over social media policies and guidelines. Understandably so. It is difficult for many to navigate the ever-changing and chaotic social networking waters. And, it isn't getting easier anytime soon.
On September 25, The Washington Post distributed its new social networking guidelines to its staffers, which included restrictions on the use of Facebook and Twitter. The Post's underlying concern was that the opinion-saturated nature of social media does not mix well with the intended neutrality of a reporter's job.
While reactions to The Post's new policies were mixed, many wondered whether this was another traditional newspaper being overly stressed about staffers expressing personal opinions.
On one hand, employees need rules and guidelines. On the other, why not proactively conduct social media workshops and training sessions, helping reporters use readily available tools to engage readers and take their reporting to new, heightened levels – especially when covering breaking news? Maybe it's fear. The fear of not knowing … not being able to fully manage the ambiguity associated with communicating via social media mechanisms. Many of us are thinking along these lines. It would be interesting to know how media outlets, companies and professionals in various industries are dealing with this sort of apprehension. And, with what sort of outcomes?
On October 15, NPR took a different route from The Post when distributing a set of tailored social media guidelines to members of their News Division. The company indicated that social networking sites are valuable newsgathering and reporting tools when a common-sense approach is applied. Additionally, NPR encouraged staffers to get out there and connect with audiences via social media. NPR's new rules were more flexible than The Post's, but only time will tell which outlet has a better strategy. What do you predict?
Regardless of the outcome, it might be a good idea for media outlets to provide ongoing guidance about how to use social media sites, especially considering their pivotal role as information gatekeepers. Many members of the media appreciated the guidelines, indicating that navigating the personal and professional blending that occurs through social media isn't always easy.
We're all starting to think more about the potential ramifications of what we say, write, publish, print, Tweet, post, blog or e-mail, and that's a good thing. We'll have to wait and see how this plays out in the media world, but in the meantime: What employee policies and practices do you think companies should institute when it comes to social media?
5 Questions with Anjali Fluker
07.21.09
Orlando Business Journal reporter Anjali Fluker is next up in our "5 Questions With" series, where we ask journalists to shed some light on pitching, reporting and journalism. An award-winning journalist, Anjali covers real estate, retail and minority business for the OBJ. Prior to coming to Orlando, Anjali covered economic development for Crain's Detroit Business. She's also worked as a community reporter for the Detroit News and as a sportswriter for the Times Herald in Port Huron, MI.
Without further adieu …
1. If you could give PR people one piece of advice, what would it be?
Research your client as well as the publication/news source you're pitching to before you make a call. If you don't know or understand what your client does, you look like an idiot. And if you don't know what the publication is about, the reporter gets insulted.
2. What do you think non-journalists would be surprised to learn about journalists?
We love food!
3. What do you think about the integration of social media and journalism? Good, bad, indifferent?
I think social media has both its ups and downs in journalism. On the upside, it sometimes makes it easier during our newsgathering phase, if we can find better sourcing and tips through Tweets & Facebook. But there's also the downside that some news organizations are starting to believe that the real "news" is what's being discussed on social networking sites. That means they're spending oodles of time on one subject and not getting enough information on other stories of value. Additionally, it could get people in trouble if they use social networking sites as a source and don't back it up. There's a lot of drama & hating going on in those places.
4. How do you prefer to be pitched?
I prefer e-mails with information that relates directly to what I cover and our publication.
5. What's the worst pitch you've ever received from a PR person?
There are way too many to name! Too often, I get e-mailed press releases that are full of company slogans and jargon, and then a follow-up call from an account exec who has no idea what his/her client's real news is when I ask more questions. Just ask a few questions and maybe you'll find a story that's real "news."
Journalists as PR People
11.19.08
From today's Wall Street Journal:
Want good press? Hire a journalist. That's Dan Abram's pitch.
If it were that simple, every business in the country would be lining up to get a journalist on the payroll.
Positioning working journalists as business consultants, former MSNBC newsman Dan Abrams has created a media-strategy firm to help businesses "navigate public-relations challenges."
Reading the Journal's article this morning sparked quite the conversation in our office – primarily focusing on the roles journalists and PR practitioners play in communicating news. Abrams Research seems to blur the line between journalism and PR. Let's face it: A journalist taking money to consult with business is a media relations strategist. That's just a fancy term for a PR person. Does this crossover present ethical challenges for the journalists? According to the society of Professional Journalists Code of Ethics:
Journalists should be free of obligation to any interest other than the public's right to know.
Presumably, a journalist coaching one of Abrams' clients will be privy to sensitive information. If a traditional journalist were to get a hold of that news, they would write up the story and give it to their editor. But, now, are we to assume the consultant/journalist will sit on the story out of loyalty to their client? What happens if that person works for a newspaper and one of their colleagues gets the scoop independently? Does the client question the consultants' loyalty?
The Code of Ethics also says journalists are to avoid conflicts of interest – real or perceived. And, as we are always telling our clients, perception is reality.
The credibility of news organizations has recently been called into question. In fact, a phrase – infotainment – has been coined to describe the meshing of news and entertainment. How will the news industry's reputation be affected by the fact that some independent journalists aren't quite so independent anymore?
Update: Looks like Gawker agrees with us, too. As they put it:
You can't hire anybody who is in some way a practicing journalist, because then they're being paid money to consult for somebody, which is a conflict of interest. This is really simple.
Update 2: Looks like the New York Times and Wall Street Journal won't allow their reporters to work for the firm, citing conflicts of interest.