Coca-Cola's Thirst for Social Media Success
12.20.11
If I had to guess which Facebook pages are the most popular, I would chose Justin Bieber, Disney and MTV (not in that order). While they are on Facebook's Top 100 Most Popular Facebook Pages In The World list, the chart toppers surprised me.
Currently, Coca-Cola® is the most popular brand page on Facebook. Companies such as MTV and Starbucks aren't even listed in the top 20. A recent USA Today article examined the ways in which Coke® has begun to dominate the social media realm. Through the creation of smart phone applications and the use of contests and giveaways, the brand reached an unparalleled level of online intricacy.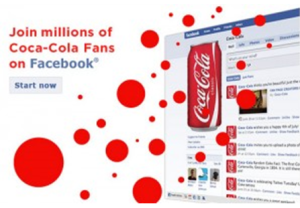 While only a part of the company's overall $2.9 billion advertising strategy, their efforts have clearly paid off. Wendy Clark, the company's senior vice president of integrated marketing says that Coca-Cola places great emphasis on social media because consumers who follow their brand online are 10 times more likely to purchase their product. And it's working: Coke's beverage sales are up 6 percent worldwide year-to-date.
Coke has also earned respect on other social networks including YouTube, where its videos have been viewed 33.5 million times and Twitter, where it has 400,000 followers. While speculation is to be expected, Coke's online success is nothing short of a well-calculated marketing takeover.
Earlier this month, Coca-Cola was named "Marketer of the Year" by Advertising Age, citing it as an example of how small and mid-sized brands also "can use creative stunts and strategic partnerships to get a lot done on a smaller budget." This recognition further solidifies their claim as one of the best in online conversation. Coke's secret? "Letting fans be fans," says Michael Jedrzejewski, one of the pages' original creators. "People are savvy enough to know when a Facebook page is contrived and manufactured."
What are some of your favorite brand pages on Facebook? What sets them apart from the rest?
Kristin Serio is a social media coordinator at Linda Costa Communications Group . She enjoys piña coladas, long walks on the beach and a daily Diet Coke (or two).