Why You Should Check Out Check-Ins
06.16.10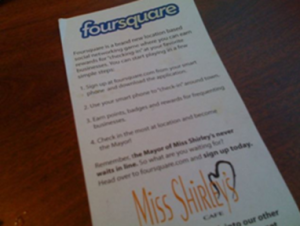 Foursquare, the location-based social media platform taking the Internet by storm, is averaging 10+ check-ins per second. Co-founder Dennis Crowley expects the website to hit 1 million check-ins daily by mid-June.
Brands that use the network to their advantage stand to gain increased exposure and consumer loyalty. In addition to collecting badges and "mayor" titles at locations around town, users are also encouraged to share tips and recommendations with others. Insider advice like "try the passion fruit juice" and "50 cent oysters during happy hour" equate to free advertising for companies.
Take a cue from Starbucks and reward these brand ambassadors with incentives. Since the debut of their nationwide mayor promotion ($1 off Frappuccinos), the coffee house has experienced a 40 percent increase of check-ins week-to-week. The following are a few examples of best practices:
Golden Corral – Mayors eat free once a day, and in some cases, are entered in a contest to win a free iPad.
UNC Charlotte – The first university to host a Foursquare promotion on campus, students receive free t-shirts for checking in at basketball games and other school events.
Miss Shirley's Café – At this busy Baltimore restaurant, mayors never wait in line.
If you are interested in integrating Foursquare into your business, do it in a way that reflects your company's personality – and be sure your customers know. Whether it's coupons, freebies or a pass to jump the line, your generosity just might earn you a shout-out on Twitter.
Photo source: @maxwellzorick