CCG 30 Acts of Kindness: Pet Rescue by Judy
04.26.16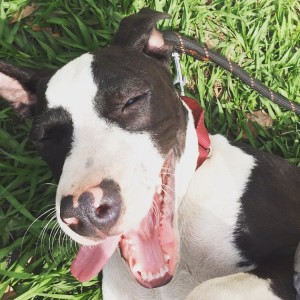 At Costa Communications Group, giving back to the community has always been part of who we are. And to honor our 30th anniversary, our entire team has committed to completing "30 Acts of Kindness" to give back to the community that we're so fortunate to be part of.
The CCG team recently had the privilege of volunteering at Pet Rescue by Judy, a nonprofit, no-kill animal shelter in Sanford. The moment we walked in the door, we were greeted by several dogs big and small, all just as excited to see us as we were to see them.
We took our new furry friends on long walks, stopping only for the occasional belly rubs – which, as you can see by the look on this pup's face, were very much appreciated.
While interacting with these dogs was definitely the highlight of our visit, the moment that warmed our hearts the most was when some of our team members witnessed an adoption take place. One lucky dog went home with a new mom, and we were there to see it first-hand.
Thank you to Pet Rescue by Judy for the opportunity to spend time with these sweet, funny and all-around adorable dogs! For information on how you can volunteer at Pet Rescue by Judy, or to learn about adopting and fostering their animals, please visit www.PetRescueByJudy.com.
C.S. Lewis' Top-Secret Mission Had War-Time Elements of PR, Marketing
01.05.16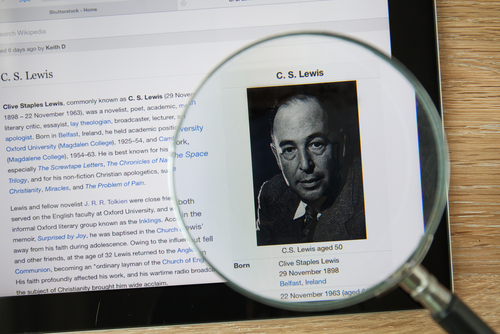 By Rob Humphreys
Most people might recognize C.S. Lewis as author of The Chronicles of Narnia series. To others, he's one of the 20th century's greatest theologians and academic minds.
Now, according to a recent story by Harry Lee Poe in Christianity Today, Lewis can also be counted as a secret agent for the British government during World War II. For even the most die-hard Lewis historians, and there are many, this connection to MI6 comes as a shocking revelation – but one that makes sense, given newly unearthed evidence.
So, why am I writing about this on the website of a public relations and marketing agency?
Because it's the nature of Lewis' top-secret mission that I find so fascinating, as it has direct ties to something our industry is especially good at – crafting compelling messages that influence people in profound ways. Yes, Lewis – master of the English language – can best be described as a literary secret agent, using the power of his pen (and voice) to fight Hitler's totalitarian regime.
For a fellow writer like me, that's pretty cool. Here's how it all went down.
In 1940, the German war machine was sweeping through Western Europe and Scandinavia. But the Nazis had yet to send troops to Iceland, a strategic island in the North Atlantic that would have been an ideal naval and air base for German attacks on England. Instead, the British launched a surprise invasion and got to Iceland first.
As Poe writes in his article, holding the island "depended upon the goodwill of the people of Iceland, who never had asked to be invaded by the British. … This was the strategic situation in which C.S. Lewis was recruited. And his mission was simple: To help win the hearts of the Icelandic people."
At the advent of World War II, Lewis was already a popular Oxford professor and one of the most influential writers of his day. He also happened to be fluent in the Icelandic language and steeped in its heritage. Even though Lewis seems to have taken this secret to his grave, British intelligence approached him to record a clandestine message that would be broadcast to the people of Iceland.
"And what did an Oxford don have to say that might help turn the tide of war in Britain's darkest hour?" Poe writes. "He spoke on the subject 'The Norse Spirit in English Literature.' Lewis provided a touchstone between the Norse people and the English."
That's right, "The Norse Spirit in English Literature." Lewis wasn't the hard-dashing, "shaken, not stirred" precursor to James Bond. He was more like someone trying to market a political alliance – based on shared culture and values – that could help save the free world. And he did it through Viking-era literature, of all things.
I won't go into all the details here, but in his article Poe does a fabulous job of documenting Lewis' logic and PR-like approach. He also explains how this new information finally came to light and what it might mean for Lewis' already-monumental legacy.
Rob Humphreys is senior writer and editor at Costa Communications Group.
New Year, New Goals: CCG Team's Professional Resolutions for 2016
12.29.15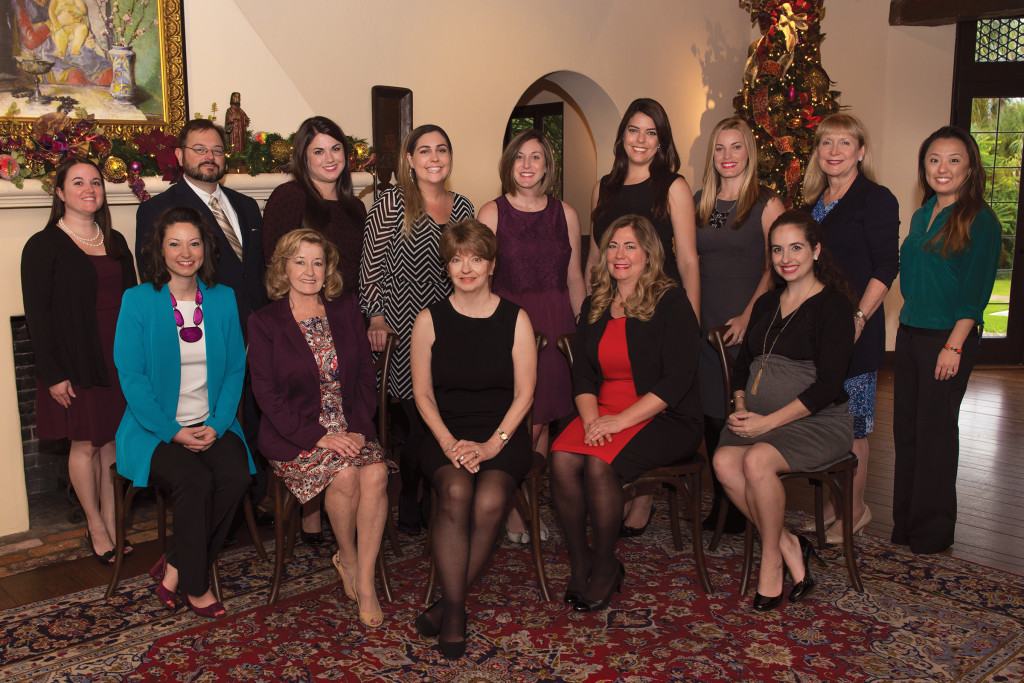 By: Kelly Cole
The same way you can click "refresh" on an Internet browser, the new year is associated with the idea of "rebooting" or "starting fresh."
With 2015 coming to a close, some of our CCG team members took the opportunity to set goals to strive for an even better 2016.
Internally at CCG, my professional goal for 2016 is to continue developing and growing our PR team – as well as myself. Externally, my resolution is to continue to surpass account goals and objectives while generating even more impacting media coverage for our clients. – Jenni Izzo, VP of Public Relations
In 2016, I would like to become more of a mentor to my colleagues and others in my industry. I would also like to be more involved in professional organizations year-round and attend seminars, webinars and speaking engagements that will help me further hone my PR skills. – Vanessa Tostes, Senior Account Executive
In 2016, I would like to spend more time connecting with others in Central Florida's PR community and professional organizations. I also hope to generate some creative "big ideas" that help our clients move the needle within their industries. – Mary Tindall, Senior Account Executive
For 2016, I resolve to become more organized with my time, add an extra workout to my routine each week and volunteer more often for the organizations that I'm most passionate about. I hope to also make more time for my family and take advantage of the time that we do get together. – Rosalinda Torres, Account Executive
To create and follow a daily habit that will lead me to achieve my personal and PR goals. – Stephanie Goenaga, Account Coordinator
This year I want to focus on getting more involved in the community. Being new to the area, charity work and volunteering are meaningful ways to meet and connect with people. – Katie King, Project Coordinator
My goal for 2016 is to come to CCG every day with an eagerness to learn all that I possibly can about the industry in order to achieve my long-term goal of becoming a PR professional. – Kelly Cole, Public Relations Intern
With these goals in mind, CCG is excited to see what new experiences 2016 will bring us. Happy New Year!
In Defense of the Phone Call
10.15.15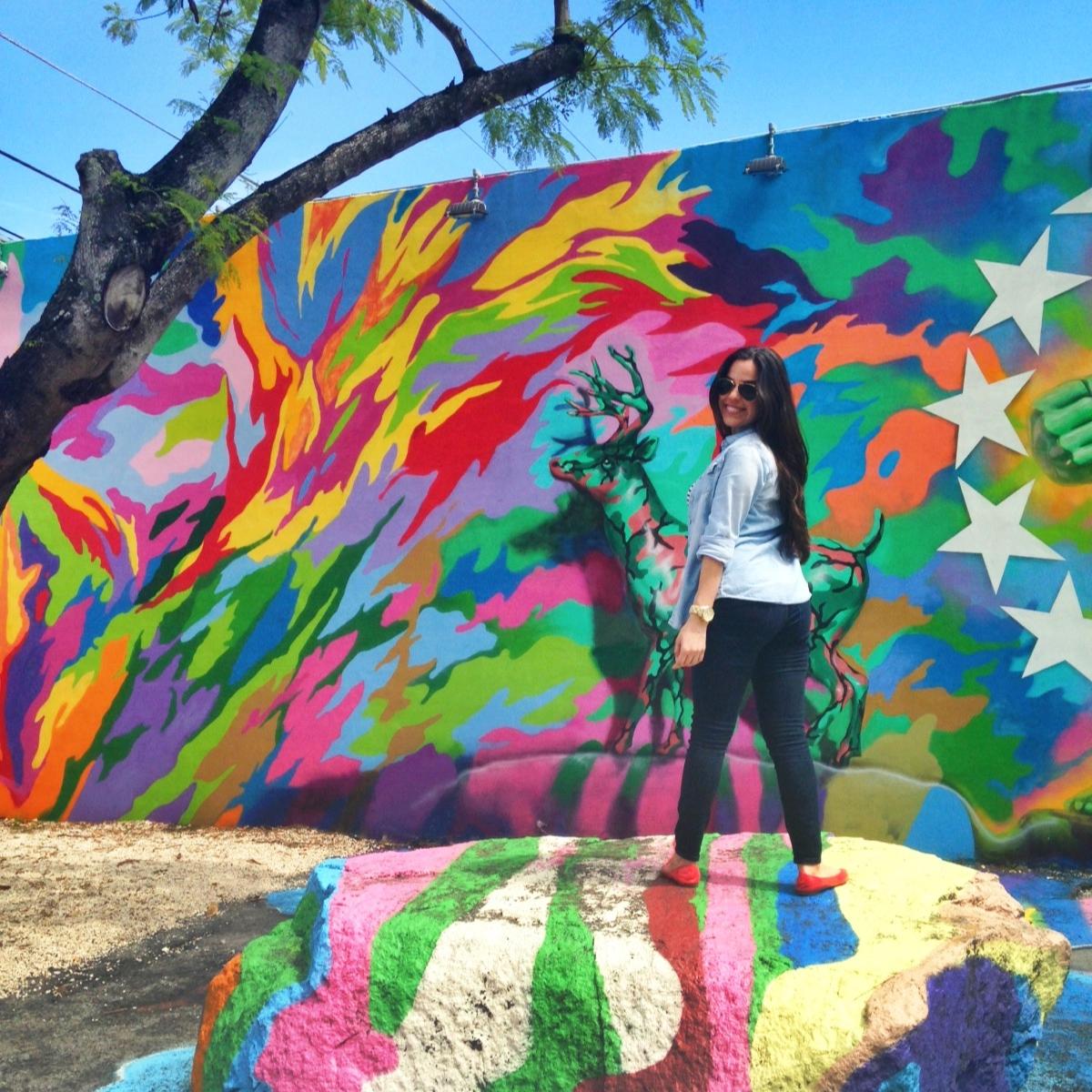 Among all the generalizations made about twenty-something millennials, one of the most common is that we're addicted to our phones. Ironically, however, we aren't addicted to phones for their original purpose – allowing us to dial a number and engage in a verbal conversation with the person on the other end. Times have changed, and with that, so has our go-to way of communicating.
We now live in a world where texting, email and social media are available to us at all times, right in the palms of our hands. We have the ability to say something to multiple people all at once without having to physically speak, and we can edit a message before clicking "send" or "post." Phone calls were once the only method of communicating quickly and efficiently; now, they are merely an option. This, in my opinion, is what makes them special.
I work in the public relations department at CCG as an account coordinator, and I've experienced first-hand just how much of an impact a phone call can make when it comes to building relationships and reaching desirable outcomes. I communicate with reporters on a daily basis – reporters who typically receive hundreds of emails a day, making it difficult for one single message or story to stand out. Almost every time I've called a reporter for a friendly follow-up to an unanswered email, I've actually helped them find an email they didn't even know existed. It's a win-win situation – I help them sort through their inbox and I get to introduce myself in a more personable matter. The email puts you out there … but the phone call makes you memorable.
There isn't a "delete" or "backspace" option during a phone call – which is probably why we've gotten so comfortable communicating electronically – but there is a price to pay for that comfort. So, if you want to be the twenty-something millennial who defies the odds, be the one who picks up the phone, dials a number and adds your voice. After all, we are the future, and the voices of the future should be heard.
Stephanie Goenaga is an Account Coordinator at Linda Costa Communications Group. 
FPRA Golden Image Awards 2015
08.21.15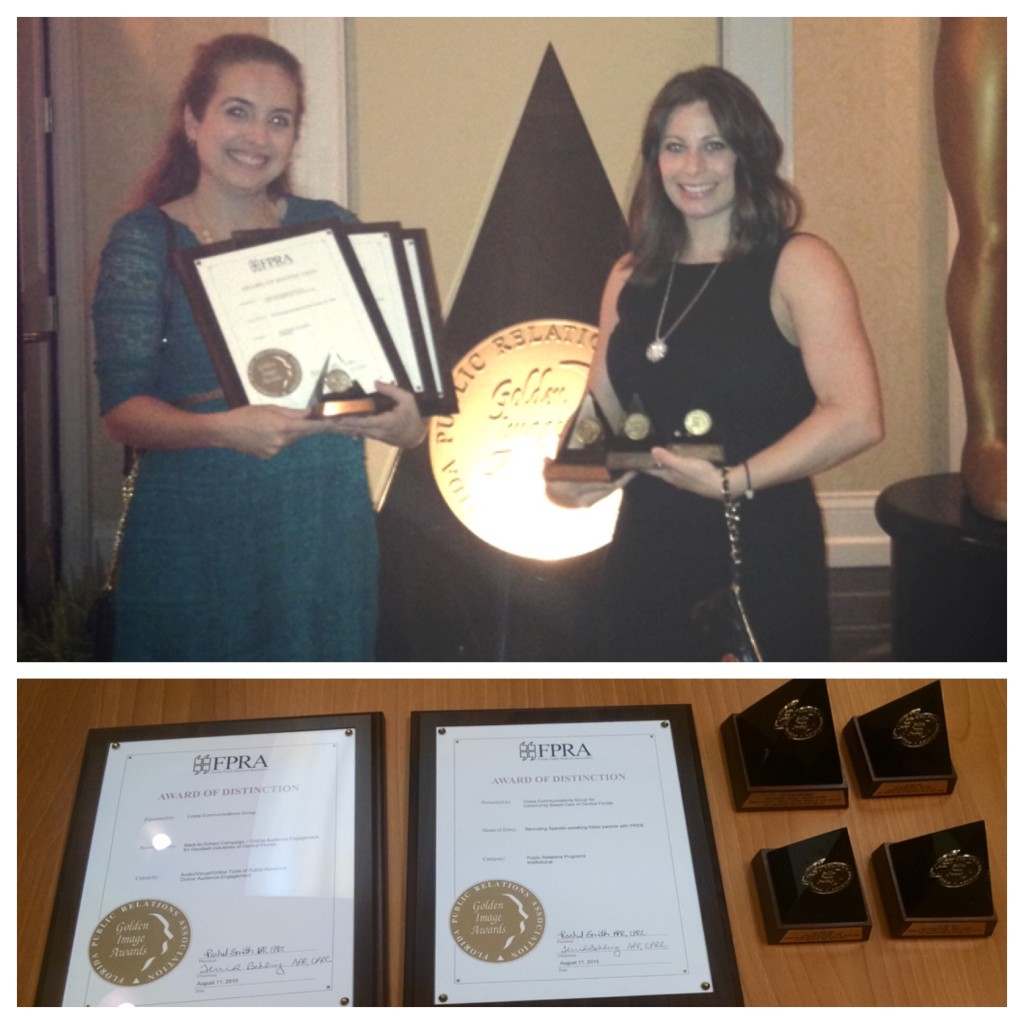 The CCG team recently had the pleasure of attending the 2015 Florida Public Relations Association's statewide Golden Image Awards competition, a program that recognizes outstanding public relations campaigns and results in Florida. We are thrilled to announce that CCG received six awards on behalf of our clients.
The full list of awards received includes:
Public Relations Programs Category
One Golden Image Award
Three Judges Awards
One Award of Distinction
Online Audience Engagement Category 
We are proud to work with so many wonderful organizations and enjoy having the opportunity to share some of the great work we do for them. Congratulations to all the winners, and a big thank you to FPRA for hosting a wonderful evening!
To see a full list of the winners, visit the FPRA website: http://fpra.org/.
Storytelling PR
04.29.15
Connect. Engage. Influence.
By Lauren George, APR
Before joining the CCG team back in September 2014, I spent several years in the communications department of a large nonprofit organization. It was there I learned that storytelling is at the heart of effective PR. I learned that when you stop trying to sell your message, you start engaging with your audience.
Why is storytelling so powerful? As humans, we're naturally drawn to learning about the plights of others. So by focusing on impact through storytelling, you'll connect with your audiences' hearts and minds. And nothing is more compelling than that.
Getting started. Mine for captivating testimonials. For example, do you have an employee who has a heart to help others? Or a customer whose life was positively impacted by one of your services or corporate social responsibility initiatives? Once you identify and interview these people, you can share their stories in the following ways:
Videos. Just watch this. And maybe grab a tissue.
Podcasts. While videos obviously have the advantage of being highly visual, audio stories can pack just as much of a powerful punch, when done correctly.
An excellent example of connecting with audiences through audio is "Serial," the podcast that put podcasts on the map. What made this program so successful? The answer is simple. The producers did a stellar job at executing powerful storytelling techniques. They made us really care about the characters. We identified with them. We empathized with them. And, because of this, we tuned in week after week because we wanted more.
Repurpose. As always, make sure you're integrating these stories and repurposing them to use in your internal and external communication strategies, including (but not limited to): media relations, social media, internal and external newsletters, website/SEO and direct marketing campaigns.
Of course, the art of storytelling started centuries ago as word-of-mouth communication. But in today's world, there are hundreds of different platforms to use to share your story, and it's important to be savvy and identify the channels that work best for you. As our digital world continues to evolve, one constant will remain: Storytelling will always be the most effective way to connect with your audience.
Idea vs. Execution
03.25.15
By Mary Tindall
(Photo Credit: quotescover.com)
"Daring ideas are like chessmen moved forward. They may be beaten, but they may start a winning game."
― Johann Wolfgang von Goethe, writer and statesman
Starbucks ended its short-lived "Race Together" campaign this week after inciting global controversy over what many called a half-baked strategy.
Bringing race to the forefront of our collective consciousness is a noble, vital goal. And Starbucks grasps the importance of grassroots action when it comes to sparking change. But when a corporate behemoth tries to pull off a grassroots campaign, no matter how well-intentioned, it can register as inauthentic – and that's what happened here.
"Race Together" is a fascinating PR case study on ideas vs. execution. The best ideas change the world for the better. And plenty of legendary ad campaigns center on one simple, elegant idea (like Apple's "Think different." campaign in the late 1990s).
But a great idea isn't enough. It has to marry with solid strategy and execution. Without those two ingredients, an idea is a fantasy, at best – and at worst, it's a disaster.
Starbucks plans to run special sections in USA Today, hold forums on race and hire more employees from diverse backgrounds – all of which seem like more appropriate venues for the type of conversation they hoped to inspire.
Meanwhile, the next time I hit the drive-through on my way to work, I won't be wondering whether my iced caramel macchiato will come with an awkward conversation starter on the side.
Mary Tindall is a senior account executive at Costa Communications Group.
Texting is the End of the English Language – JK
03.02.15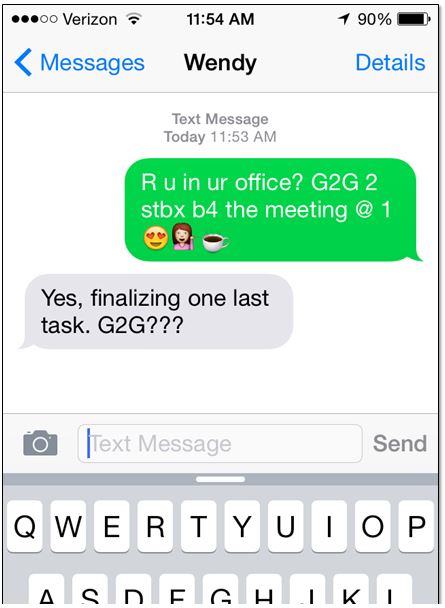 By Kelsey Albina
There are two sides to every argument. And TBH, I had my mind made up about which side I fell on before I started to write this. (Oh, TBH means "to be honest," BTW.)
Texting. Social media. Instant messaging. Is it ruining the English language? Is it affecting my comma or punctuation usage? I would've vehemently said "yes" just yesterday. Then I did some research on language and its evolution. I also read some studies on how technology is impacting how we learn and process the English language. And my thoughts have changed – even if I still refuse to drop a word's vowels on purpose when pecking away at my cell phone.
Reading in acronyms is annoying. And I don't appreciate when the English language is butchered to make words incorrect. I cringe when my phone autocorrects "were" to "we're" when I fully intended to exclude the apostrophe. I correct my friends when they use the wrong "their/there/they're" in a text message. But there's something cool about language changing as society changes. That is, after all, how our language was created.
John McWhorter writes in his 2013 Time essay, "Texting properly isn't writing at all – it's actually more akin to spoken language. The argument that texting is 'poor writing' is analogous, then, to one that the Rolling Stones is 'bad music' because it doesn't use violas."
Just as the meanings of words morph over time, language changes, too. We don't get upset when others say "that's awful" to describe "terrible" rather than "inspiring awe."
Does it mean that the shortened language we use while texting or posting to social media is killing grammar and the structure of the English language? Not necessarily. Maybe it's a chance for us to adapt, as well, and to really hone in on the differences between written, spoken and texted communication.
Old School vs. New School
02.19.15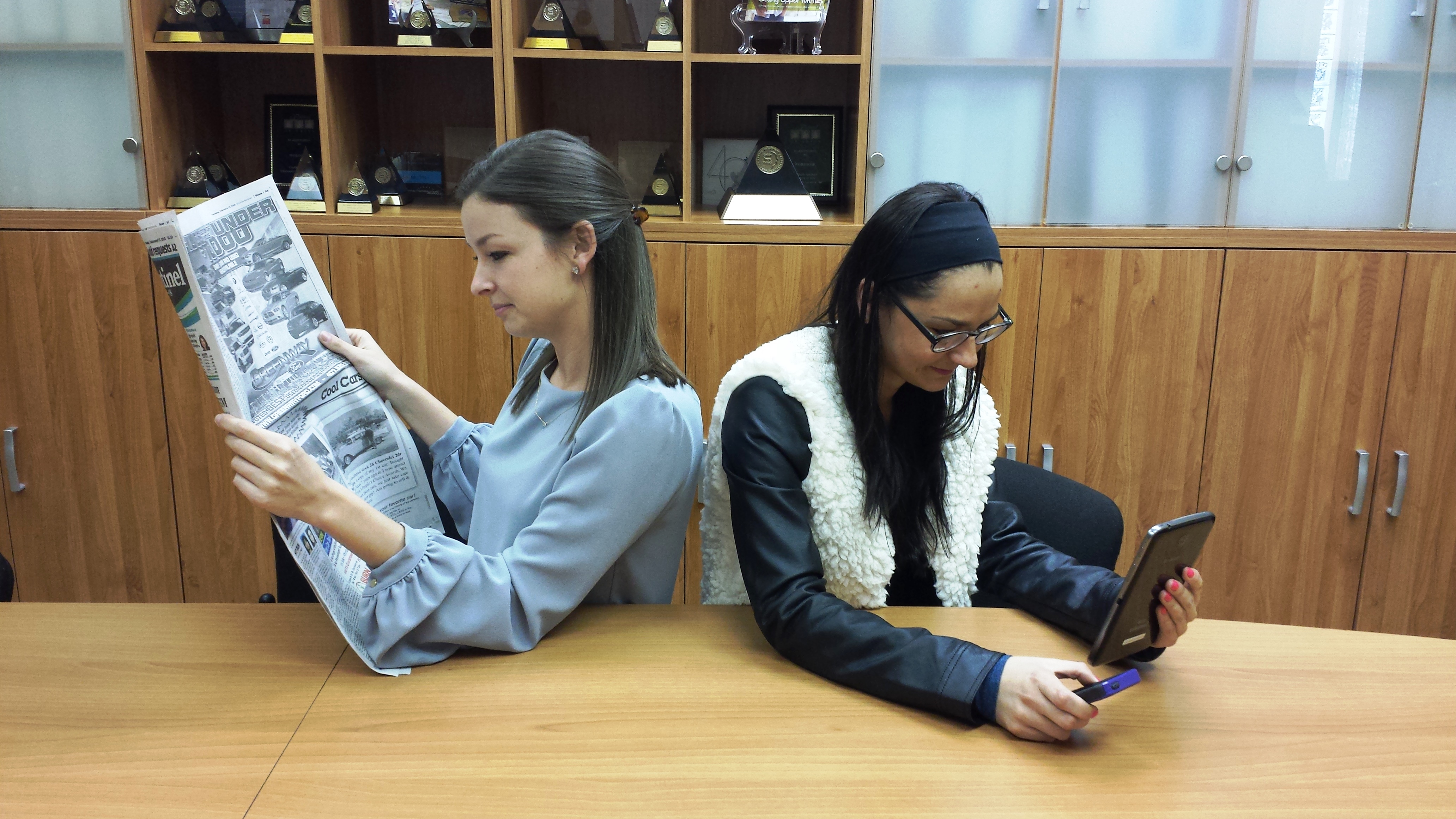 By Wendy Gustama
Grassroots campaigns – like most communications efforts – are constantly evolving in the age of digital media.
In the words of Bess Auer, co-host of Blog Talk TV and founder of FLBlogCon and Gotta Get Blogging, grassroots is more than planting and cultivating seeds. In 2015, we need a shovel (i.e., social media) to dig deeper into the soil in order to communicate our causes.
So, who's doing it right?
Humans of New York – This project was started in 2010 by a photographer who wanted to catalog the different residents of New York City. Five years later, his Facebook page has more than 12 million fans, a recent post helped raise more than $1 million, and he earned a trip to the White House to photograph and tell the story of President Obama.
Selma for Students – This campaign started with 27 business leaders who wanted to help 27,000 New York City middle school students see the movie Selma for free. It eventually gained national attention (#SelmaforStudents) and has now reached over 275,000 middle and high school students in more than 30 cities across the country.
Next time you're contemplating whether to go the traditional route or online, consider how the effective use of social media can make for a powerful message.
5 Tips for Journalists Transitioning to PR
02.03.15
By Mary Tindall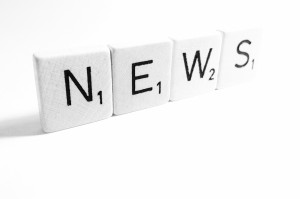 Photo Credit: Dennis Skley (Flickr)
A journalism background can be a huge asset when starting a PR career – but like any job change, PR has a learning curve. When I left the newsroom for the "dark side" (as my journalism professors termed it), I gained a new respect for my PR colleagues … mostly because I finally understood how challenging this job is.
Here are five tips for journalists planning to make the move in 2015:
Immerse yourself in the industry. Take advantage of resources like Ragan's PR Daily and professional associations like PRSA Orlando to stay on top of communication trends. Pay attention to what's happening in digital storytelling, media consumption and PR measurement – all of which are constantly evolving.
Understand the value of PR. There are many definitions of PR, but suffice it to say, it's more than just landing stories in the media. (And on that note, media relations is more than just "reporting in reverse.") Effective PR influences perceptions and ultimately furthers your clients' objectives. Knowing the scope of your role helps you offer valuable counsel – whether you're working in-house or at an agency.
Adopt your client's perspective. At CCG, we call this "putting on your client glasses." Learn everything you can about your client's environment, challenges, competition and goals. Spend time listening. Understanding their perspective requires more than just learning their lingo. It's ultimately about empathy. What are their pain points? How can you help?
Get comfortable with long-term planning. Many journalists live for the adrenaline rush of filing daily stories or live shots. It can be challenging to shift to a strategic approach that yields results over weeks, months and even years. Learn to balance your "boots on the ground" hustle with long-term planning skills to create campaigns with measurable impact.
Celebrate what you bring to the table. The best journalists and PR pros share many of the same traits – curiosity, respect for deadlines and attention to detail. On days when the learning curve seems steep, take heart – you may be further along than you think.
Mary Tindall is a senior account executive at Costa Communications Group.