Holiday Cheer in Giving
12.23.10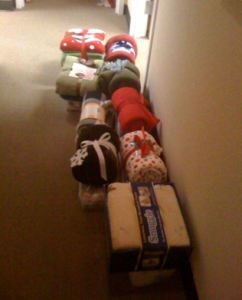 During this festive time of year, the lights are on trees, Christmas music is all around, cookies are freshly baked and kids are looking forward to the bounty Santa will bring. Though it can sometimes be overwhelming – all the shopping, wrapping and get-togethers – we are so fortunate to have such wonderful worries, aren't we?
I once heard, "The reason for having is to give." At Linda Costa Communications Group , we are grateful for our blessings and cognizant of the fact that they can be used to serve a greater good in the community. This year, we participated in two charitable drives during December.
The Boys & Girls Club of Central Florida's Adopt-a-Family is an annual program that benefits those less fortunate. Every year, this organization selects local families in need and provides clothes, toiletries, toys and other donations. This year, Linda Costa Communications Group  had the privilege to sponsor two families, helping to create a happy and memorable holiday for them.
Seniors First, a nonprofit dedicated to enhancing the quality of life of local elderly citizens, hosts an annual shoebox drive to brighten the days of 2,500 Central Florida seniors. Our team donated nine shoeboxes filled with blankets, candy, gift cards, crossword puzzles and other items to those we visit during our weekly Meals On Wheels delivery route.
It's been a rewarding year at Linda Costa Communications Group, and we feel blessed to be among other Central Florida companies spreading the happiness of the season to the communities we serve. Here's passing along the joy of the holidays – from our team to yours.