Thrift and the Art of Writing
01.28.15
When I want to wax nostalgic, nothing fits the bill quite like watching "A River Runs Through It." This story of life in turn-of-the-century Montana continues to hold a mystical appeal, its tragic melancholy resonating with age.
As a writer and editor, I'm drawn to an early scene where the fly-fishing narrator speaks of his childhood education.
"Each weekday while my father worked on his Sunday sermon, I attended the school of the Rev. Maclean. He taught nothing but reading and writing, and, being a Scot, believed that the art of writing lay in thrift."
As you'll see in the clip, the spectacled Presbyterian minister – red pencil in hand – does a number on his son's assignment.
"Half as long," he admonishes.
After a rewrite, the boy returns, waiting rigidly for approval – and the ensuing freedom to fish Missoula's Blackfoot River.
"Again," his father says. "Half as long."
Eyes rolling and teeth clinched, the young man gives it one final try.
"Good," the reverend tells his son. "Now throw it away."
A peculiar directive. But as the years pass, I appreciate its wisdom all the more.
Rob Humphreys is a senior writer and editor at Costa Communications Group. Watching "A River Runs Through It" as a 17-year-old, he dreamed of moving out West to – as the Rev. Maclean puts it – explore "the natural side of God's order."
What I Learned After 25 Acts of Kindness
01.16.15
By Wendy Gustama
Last Friday, I reached a huge milestone and turned 25 … a quarter of a century old! To celebrate, I completed 25 acts of kindness, ranging from dropping off donuts at the local fire station to leaving a dollar at the laundromat. Though tough to complete it all, it was so rewarding by the end of the day.
One of my biggest takeaways was that people aren't used to someone being thoughtful for no reason. For instance, when I asked to speak to the manager during my birthday dinner, I could already see the dismal look begin to form on his face, his reluctant steps to my table and the rehearsed apology forming on his lips. When I told him I simply wanted to praise my waitress, he was completely taken aback!
What can we as PR professionals learn from this? Compliments go a long way. In the midst of your pitching today, take a look through your Rolodex, Evernote app or wherever you keep your contacts, and send someone a thank you note.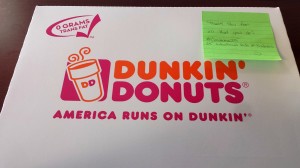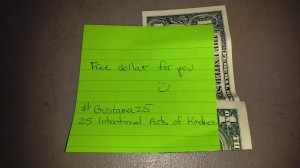 Professional PR Resolutions for 2015
01.08.15
By Jessica Garcia
Each December, millions of Americans spend time determining where they would like the fresh start of the new year to take them. To kick 2015 off on the right foot, our PR team is sharing some of their personal resolutions.
-       Continue to think outside the box. Just because something has worked in the past, doesn't mean it will work time and time again. – Samantha Delgado, account executive
-       Stay ahead of the game. As public relations professionals, our day is often filled with urgent requests, countless emails and tight deadlines, making it easy to get bogged down. Dedicate extra time towards research and planning by creating a calendar that is easily visible is essential for staying on track. – Lauren George, senior account executive
-       Get involved in local professional organizations such as FPRA, PRSA and Young Professionals to not only stay sharp in the world of public relations, but also network and meet new people. – Kelsea Mullane, account coordinator
-       Spend more time sharing my knowledge of and passion for the industry by writing more bylined articles and participating in professional speaking opportunities. – Jenni Izzo, vice president of public relations
-       Learn best practices from my coworkers while also sharing my knowledge with others. Our office is constantly learning from each other to help everyone evolve and develop professionally. – Vanessa Tostes, senior account executive
-       Continue to develop a personal blog. In the PR industry, there is a never-ending supply of industry topics and news to discuss, and a blog is the perfect outlet for sharing ideas and networking. Ramping up a blog and setting goals for posting is a focus for 2015. – Jessica Garcia, account executive  
-       Long-term planning is my focus for the new year. Although it's important to set goals for next year, it's equally essential to create a vision for your career as a whole.  – Wendy Gustama, account executive
Jessica Garcia is an account executive who thinks 2015 is going to be the best year yet.