You Can't Always Judge a Profession by the Movies
07.30.12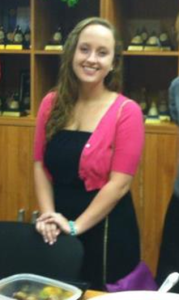 I've got to fess up. I wasn't exactly sure what the public relations industry entailed prior to my internship at Linda Costa Communications Group, or what the internship itself would be like. Frantically attempting to persuade a potential client over the phone to become my client as he demands, "show me the money!" might have crossed my mind once or twice. And as a psychology major, I had no previous training in utilizing communication as an art form. But psychology did me right, as my entire internship was centered around people. The main objective: determine what it is your clients want and how to achieve their definition of success.
Here are a few PR tips I learned during my time as a Linda Costa Communications Group intern:
Pitch often, but pitch smart.
Brainstorm how to creatively cast your clients in a positive light. Always have this task in the back of your mind; you never know when the "light bulb" will magically turn on.
Fact check. And then do it again.
Build and monitor relationships with media.
Keep in mind the brand you're representing.
Make time to keep up with the daily news; sometimes a back-page national story can spark the idea for a front-page local one…with a client tie-in, of course!
Work as a team.
Whenever you have an opportunity to practice your writing skills, take it. Writing is the most important weapon you have in public relations, and the ability to communicate clearly and effectively is invaluable.
As a psychology major, or really as any major, being able to communicate well with others is a must. Let's be honest: the world is becoming smaller every day (thanks to constant updates in technology) and you must be able to navigate through this ever-shrinking domain. And the time spent developing my communication skills will help me do just that. Writing papers, conducting research and sending professional emails this fall at the University of Miami will all be a piece of cake … thanks to all that I learned at Linda Costa Communications Group.
While she's pitching to journalists, fact-checking letters and brainstorming for clients, Grace Madsen is considering re-evaluating her pre-internship perception of public relations.
Understanding Generations Connected
07.25.12
If you've ever wondered why you think or act a certain way, take a second to find out where you fall in terms of generations. Believe it or not, this affects everything.
Our public relations team recently attended a media roundtable hosted by the local chapters of FPRA and PRSA where Jenny Schmitt, president of communications strategy firm CloudSpark, spoke about generational differences. She defined a generation as a group of people born within a 20-year time span who share a common location in history/time, the same beliefs and behaviors. This is not to say that everyone in a given age group is exactly the same, but there are certain shared characteristics based on shared experiences. Here are some tidbits, courtesy of Jenny (a Gen Xer), to help you get an idea of each generation's attributes:
Civics: Ages 67+
Masters of the "American Dream"
Turn offs: Vulgarity
Work ethic: Dedicated
Need: Stability
Baby Boomers: Ages 48-66
Rule breakers who love rules (love/hate relationship with authority)
Turn offs: Political incorrectness
Work ethic: Driven
Need: Personal challenge
Generation X: Ages 33-47
The forgotten generation
Turn offs: Cliché/hyped-up marketing
Work ethic: Balanced
Need: Immediate feedback
Generation Y/Millennials: Ages 13-32
Traditional with a modern twist
Turn offs: Waiting
Work ethic: Determined
Need: Structure
The difference among generations makes communication, and the matter in which it is conducted, a vital detail. Something as simple as a handwritten thank-you note, for example, can go a long way to impress civics and baby boomers. On the other hand, an e-card or e-vite would work well with Gen Xers and Millennials, who are more likely to engage online. In the public relations profession, we are constantly connecting with others – whether it's a reporter, a client or one of our colleagues. When communicating, a more personalized approach will take you a lot further than hitting everyone with one mass message.
Wendy Gustama, a Millennial, is the newest member of the Linda Costa Communications Group team and likes working with different generations.
Linda Costa Communications Group in PRWeek
07.10.12
Linda Costa Communications Group was included in a recent issue of PRWeek for our work with the Lipman Kitchen website launch. You can read the print version of the article below or on the PRWeek website.