When Curiosity Leads to Passion
08.17.16
When Curiosity Leads to Passion
As I celebrate my fifth anniversary at CCG this week, I've been thinking a lot about staying power. What aspects of a company encourage employees to stay – and thrive – over the long-term? For me, CCG has offered a valuable mix of challenging work, growth opportunities, talented colleagues, support and flexibility.
But there's something even more fundamental that's woven into our DNA as a company. I think this quote from best-selling author Elizabeth Gilbert sums it up nicely: "If you can let go of passion and follow your curiosity, your curiosity just might lead you to your passion."
This quote resonates with me because it reflects my story. When I came to CCG, public relations was my "plan B" after exiting the unstable journalism industry. I quickly realized that PR is one of the best career paths for people who are chronically curious – which is me, to a T!
Working at CCG is fulfilling to me because no two days are exactly the same. A recent week included pitching the media about robotic surgery, conducting primary research aboard a commuter rail line, writing a PR strategic plan, taping an in-studio interview for a nonprofit client and mentoring fellow team members … just to hit the highlights! Every day brings new opportunities to immerse ourselves in our clients' industries, adapt to the evolving media landscape and position our clients for success.
What sets CCG apart is how much we encourage and reward curiosity … which, in turn, translates to passion for our clients and the work we do every day. It's a virtuous cycle that creates true staying power … and I'm thankful to experience that at CCG.
Mary Tindall is a senior account executive on Costa Communication Group's PR team, and we couldn't be more thrilled for her to be celebrating her five-year anniversary with us.
New Year, New Goals: CCG Team's Professional Resolutions for 2016
12.29.15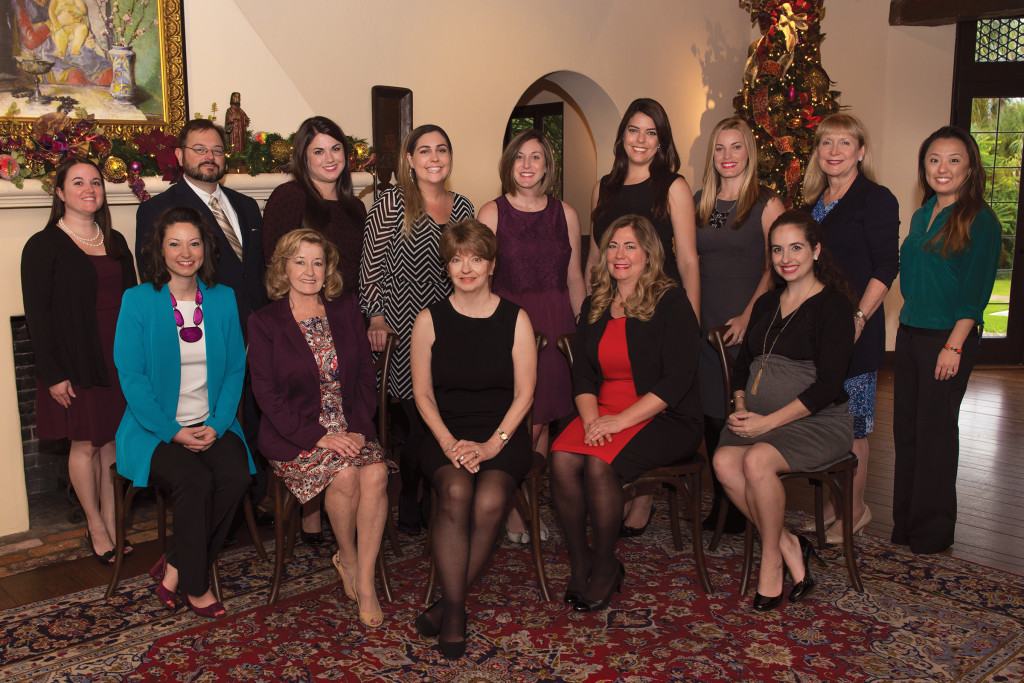 By: Kelly Cole
The same way you can click "refresh" on an Internet browser, the new year is associated with the idea of "rebooting" or "starting fresh."
With 2015 coming to a close, some of our CCG team members took the opportunity to set goals to strive for an even better 2016.
Internally at CCG, my professional goal for 2016 is to continue developing and growing our PR team – as well as myself. Externally, my resolution is to continue to surpass account goals and objectives while generating even more impacting media coverage for our clients. – Jenni Izzo, VP of Public Relations
In 2016, I would like to become more of a mentor to my colleagues and others in my industry. I would also like to be more involved in professional organizations year-round and attend seminars, webinars and speaking engagements that will help me further hone my PR skills. – Vanessa Tostes, Senior Account Executive
In 2016, I would like to spend more time connecting with others in Central Florida's PR community and professional organizations. I also hope to generate some creative "big ideas" that help our clients move the needle within their industries. – Mary Tindall, Senior Account Executive
For 2016, I resolve to become more organized with my time, add an extra workout to my routine each week and volunteer more often for the organizations that I'm most passionate about. I hope to also make more time for my family and take advantage of the time that we do get together. – Rosalinda Torres, Account Executive
To create and follow a daily habit that will lead me to achieve my personal and PR goals. – Stephanie Goenaga, Account Coordinator
This year I want to focus on getting more involved in the community. Being new to the area, charity work and volunteering are meaningful ways to meet and connect with people. – Katie King, Project Coordinator
My goal for 2016 is to come to CCG every day with an eagerness to learn all that I possibly can about the industry in order to achieve my long-term goal of becoming a PR professional. – Kelly Cole, Public Relations Intern
With these goals in mind, CCG is excited to see what new experiences 2016 will bring us. Happy New Year!
Why We're Thankful
11.24.15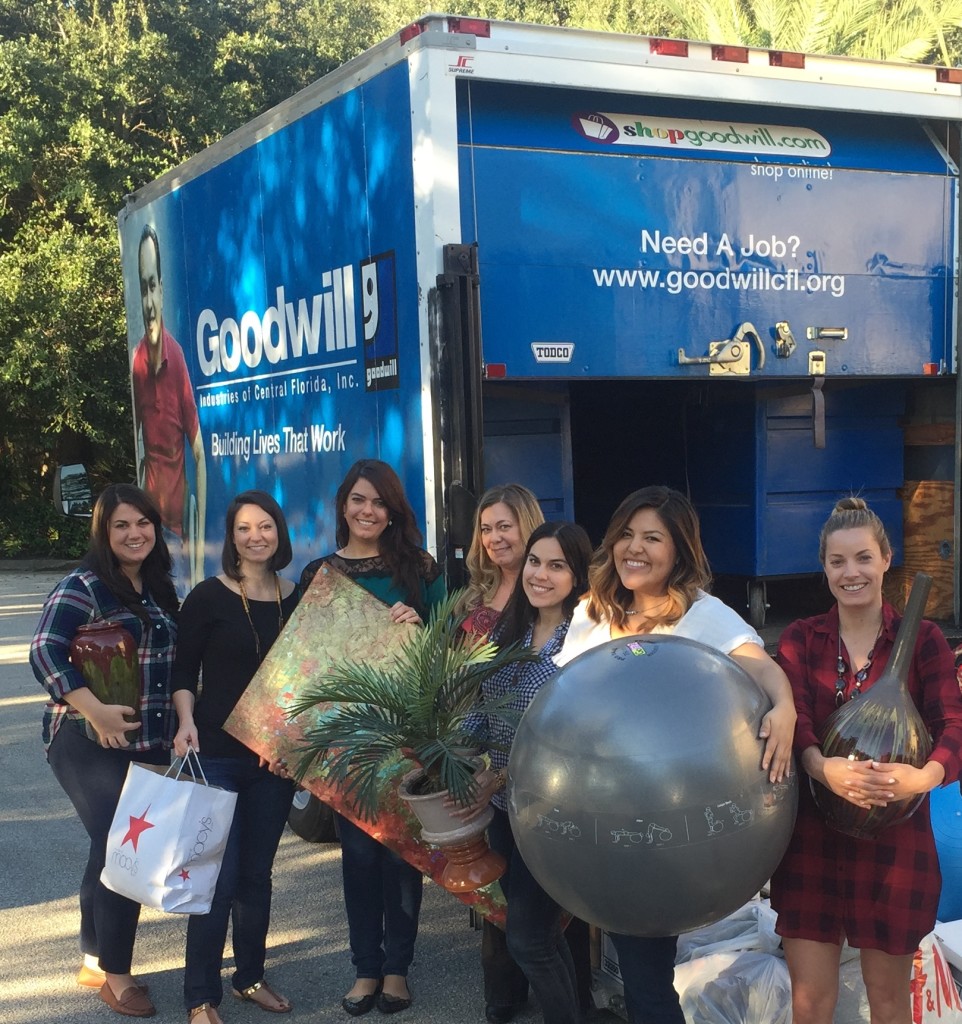 Thanksgiving is a joyous time of year to gather around the dinner table with loved ones to celebrate what we appreciate about our lives. During this time of gratitude, the CCG team wanted to share what we're thankful for this year.
I am abundantly blessed and thankful for my "home family": friend, confidante and love of my life for 45 years, Mike; my wonderful children, Megan and Jimmy; my amazing grandchildren, Gabby and Cassidy… and my "CCG family" – without doubt, the best team on the planet! – Linda Costa, President
Professionally, I am thankful for a hardworking team and inspirational clients who always encourage us to reach new levels of success. Personally, I am thankful for supportive friends and family – and the opportunity to host several of them for Thanksgiving dinner this year. – Jenni Izzo, VP of Public Relations
This week, we have family from Spain sharing our Thanksgiving tradition. I'm especially thankful for the love, support and visits from family near and far this holiday. – Danielle Jimenez, Director of Client Services
I'm thankful to work with an inspiring and supportive team … and for CCG potlucks! – Mary Tindall, Senior Account Executive
I am thankful for my family – they are everything to me. I feel blessed to have such a large family with amazing parents and three wonderful siblings – and I was lucky to marry someone who shares the same values and has an incredible family, as well. – Vanessa Tostes, Senior Account Executive
I'm thankful for my tremendously supportive family and friends, my fur baby, my amazing clients and all of the lovely people that I get to work with at CCG every day! – Rosalinda Torres, Account Executive
For me this time of year is all about family. I am thankful for my immediate family, my family of friends and my family at work.  – Jeffrey Gay, Media Director
Kerrie, Kevin, Leah, Cade, Mike, Mom, Dad, Pop, swimming, baseball, Rollins College, faith, church, growth, provision, my pastor, black ink, red pens, yellow highlighters, words, the Bible, good books, Dan Carlin's Hardcore History podcast. – Rob Humphreys, Senior Writer/Editor
I'm always the most thankful for my family – they're the best part of my life. But this year, after starting my first job out of college and becoming more financially independent, I find myself feeling incredibly thankful for how hard my parents always worked to give me and my sister everything we needed and a lot of what we wanted. I'm also thankful for my kitten, Nova! She's made my transition into the "real world" less scary. J – Stephanie Goenaga, Account Coordinator
We wish you a happy Thanksgiving filled with wonderful food and even better company!
"Swan Goals" – Tips On How To 'Stay Afloat' During Your Summer Internship
06.23.15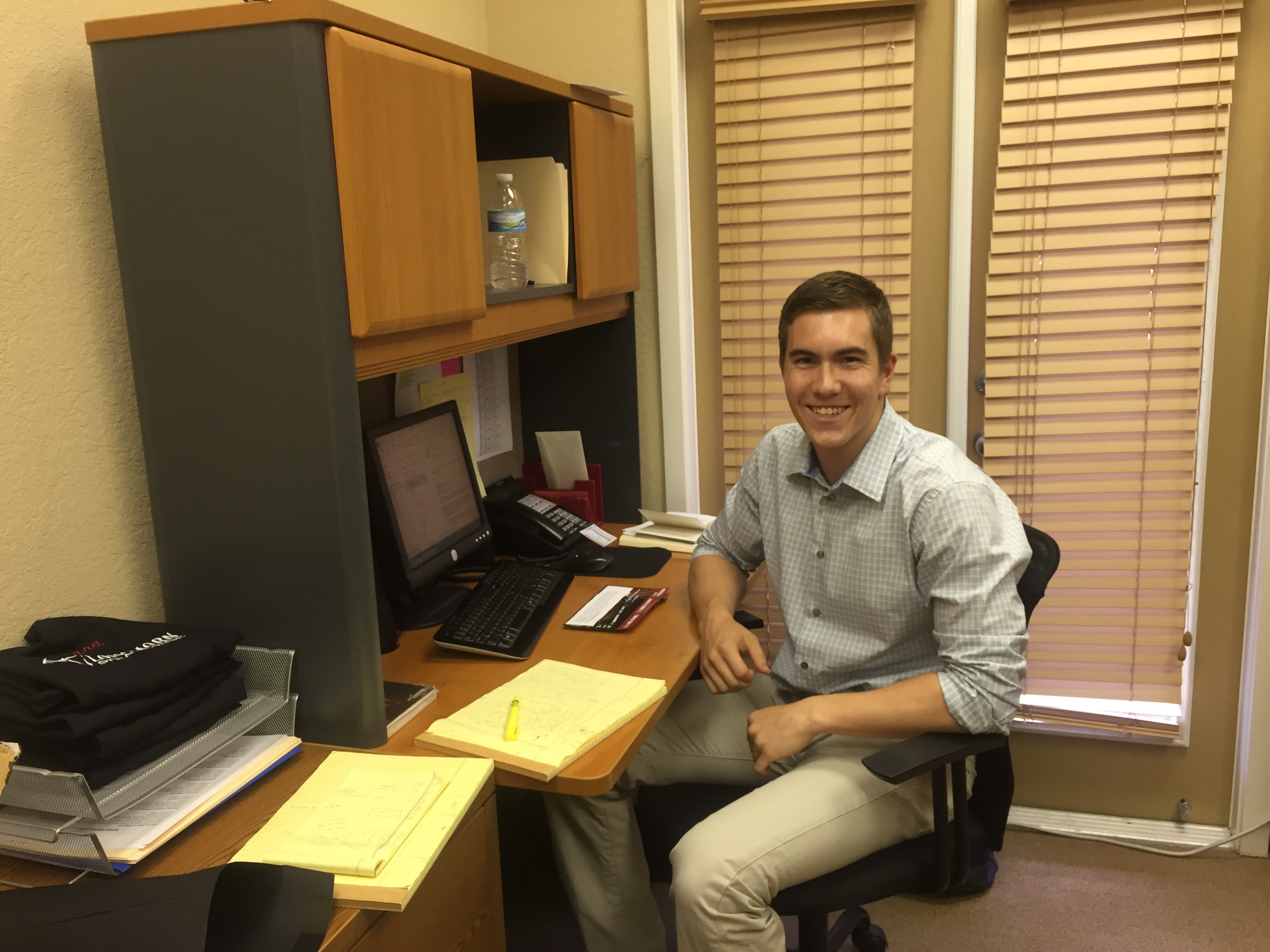 This summer, some celebrities are spending their time lounging in the pool on inflatable swans … But me? I'm taking a different approach to "swans" as I pursue my professional goals and immerse myself in the wonderful world of Costa Communications Group. Here are some tips for how to "stay afloat" during your summer internship.
Stay available – Always make yourself available as a resource for everyone. Don't ever turn down an opportunity to work on a project, because every bit of work is important and needed. Looking for extra work is also a great way to learn, and getting involved in a myriad of projects will not only help you learn about the great work that the agency does, but also about how to best serve clients.
Wonder out loud – Always be ready and willing to ask questions. This is not only a great way to learn, but also to show your enthusiasm and willingness to gain new insight.
Always double-check your work – Whether you are entering data on a spreadsheet, or a pitching a story to the media, you should always proof it carefully. As an intern, you're a representative of the agency, and you're responsible for upholding the reputation, just like any other employee.
Notice the work that others do – You have the opportunity to be in a workplace where everyone is enthusiastic and keeps best practices in mind at all times. A lot can be learned simply from observing how other team members go about their work.
While the "swanning" trend will probably not be around forever, I know the skills and knowledge that I gain this summer will stay with me long into my PR career. The people I have had the privilege to work with have been incredible role models and coaches to me thus far, and I am extremely thankful for the amazing opportunity to work with all of them.
Caleb Liptak is CCG's summer PR and marketing intern. 
And the Winner is …
04.20.12
Linda Costa Communications Group is proud to announce our latest awards:
Additionally, our PR team brought home an Image Award, Award of Distinction and Judges' Award from the Florida Public Relations Association Orlando chapter's local Image Awards competition, which acknowledges outstanding achievement on public relations materials and campaigns.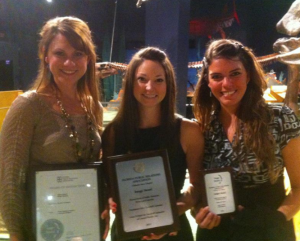 Linda Costa Communications Group Wins Gold
02.21.12
We're proud to announce that Linda Costa Communications Group's graphic design team took home two gold Addys at this year's event. The winning pieces included:
Annual report for Second Harvest Food Bank of Central Florida
History book for OUC – The Reliable One

Congratulations to all the other winners … and a big thank you to the American Advertising Federation's Orlando chapter for hosting the event.
Holiday Cheer in Giving
12.23.10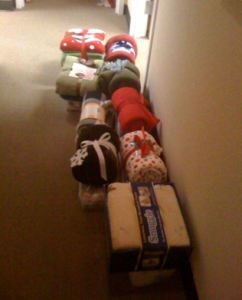 During this festive time of year, the lights are on trees, Christmas music is all around, cookies are freshly baked and kids are looking forward to the bounty Santa will bring. Though it can sometimes be overwhelming – all the shopping, wrapping and get-togethers – we are so fortunate to have such wonderful worries, aren't we?
I once heard, "The reason for having is to give." At Linda Costa Communications Group , we are grateful for our blessings and cognizant of the fact that they can be used to serve a greater good in the community. This year, we participated in two charitable drives during December.
The Boys & Girls Club of Central Florida's Adopt-a-Family is an annual program that benefits those less fortunate. Every year, this organization selects local families in need and provides clothes, toiletries, toys and other donations. This year, Linda Costa Communications Group  had the privilege to sponsor two families, helping to create a happy and memorable holiday for them.
Seniors First, a nonprofit dedicated to enhancing the quality of life of local elderly citizens, hosts an annual shoebox drive to brighten the days of 2,500 Central Florida seniors. Our team donated nine shoeboxes filled with blankets, candy, gift cards, crossword puzzles and other items to those we visit during our weekly Meals On Wheels delivery route.
It's been a rewarding year at Linda Costa Communications Group, and we feel blessed to be among other Central Florida companies spreading the happiness of the season to the communities we serve. Here's passing along the joy of the holidays – from our team to yours.
Women-Wise
10.21.10
Did you know it's National Women's Business Week? Admittedly, these days, there is a "week" for everything. But, I couldn't help but feel a little twinge of pride when I read that this morning.
As you may or may not know: Linda Costa Communications Groupwas founded by Linda Costa almost 25 years ago. Under the company's original name, Wordwise, Inc., Linda began her business career out of the spare bedroom in her home … writing technical and creative copy for a variety of clients. Two years later she added design to the company's repertoire. Today, her "startup" agency is creating big-time results for some of Central Florida's most influential businesses.
It seems more and more successful women business owners, like Linda, are having a substantial impact on the evolving landscape of today's workforce.
According to MomsRising, women-owned businesses:
Employ 23 million people (16 percent of the workforce, which is nearly double the number of those employed by the 50 biggest companies in the country combined);
Generate $3 trillion in revenue; and
Are more likely to offer supportive, *family-friendly benefits like flex-time and profit sharing.
Pretty powerful numbers. So, if you know a woman in the workforce, give her a shout-out. I'm proud that I work with some of the smartest women I know. Who are you celebrating this week?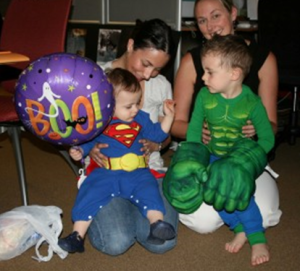 *Linda Costa Communications Group offers flex-time and holds annual holiday parties and activities like "trick-or-treating." Above is a coworker and I with our toddlers at last year's Halloween celebration.
Junior Summit Award Winner: Simone Behar
10.20.10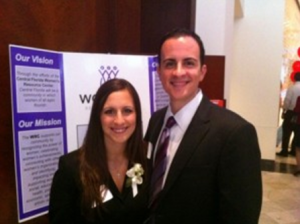 Congratulations to Linda Costa Communications Group 's Assistant Vice President of Marketing, Simone Behar, for being named the Junior Summit Award winner by the Women's Resource Center of Central Florida. Simone was chosen based on her leadership and contribution to the Central Florida community by performing countless hours of community work.
Since joining Linda Costa Communications Group six years ago, she has been the "cheerleader-in-chief" for our Meals on Wheels route and has spearheaded many of the firm's pro-bono initiatives.
However, Simone's commitment to the community doesn't end when she leaves the office. She was one of the founding members of the Give Hope Foundation, a local non-profit organization that provides support to children and families who are battling childhood cancer. Through her involvement in Give Hope, she became an avid volunteer at Camp Boggy Creek and spends many of her weekends being a "camp counselor" at the organization.
Fluent in Greek, Simone was also chosen in 2009 as the Holy Trinity Greek Orthodox Church of Greater Orlando's most active young adult, and was awarded the "Archangel Michael" honor for her many years of volunteer service.
Simone's infectious smile and warm, giving heart are contagious. We're thankful for her contributions to both our community and company.
FPRA Member of the Year: Doreen Overstreet
08.26.10
A big "congratulations!" goes out to our very own Doreen Overstreet, senior account executive, who was recently named the FPRA Orlando-area chapter's "Member of the Year." This honor is a testament to her outstanding leadership, demonstrated enthusiasm, extraordinary involvement and loyal support.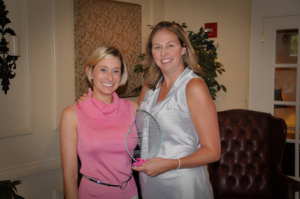 Photo source: @FPRAOrlando