To Engage or Not to Engage
09.30.10
… For some, that is the question. When it comes to social media for your business, Shawn Vincent hit the nail on the head with this tweet: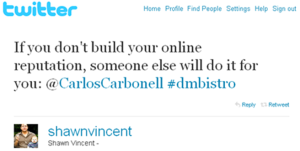 Chances are your brand (or industry) is being talked about online. Whether it's a compliment or complaint, it's an opportunity to thank a loyal advocate or address a concern. To equate this to the pre-Twitter, Facebook and blogging days, think of these comments as if they were a phone call to your headquarters. But, with social media, that "call" is potentially being heard by millions of users.
Opportunity is calling. Are you picking up?