Women's Leadership Luncheon with Erin Gruwell
03.18.14
By Kelsea Mullane
Last week, I attended Heart of Florida United Way's Women's Leadership Luncheon, featuring New York Times best-selling author, Erin Gruwell, as keynote speaker. Erin's book The Freedom Writers Diary was the inspiration for the film Freedom Writers starring two time Oscar winner Hilary Swank.
After reading the book and seeing the movie, it was so inspiring to see Erin speak about the power of literacy and education. I have loved books as long as I can remember, so it was amazing to hear first-hand how reading affected the lives of Erin's students.
After listening to her speak, I was fortunate enough to meet her and got to speak to her about her experience. (We even bonded over our love for Jimmy Fallon.) She signed my book Write What Needs to Be Written, which fits perfectly with her story. Erin and her students prove that the pen is mightier than the sword and that ordinary people can do extraordinary things.
Kelsea Mullane has served as an Account Coordinator with Costa Communications Group for the past eight months. She loves good books, except when she has to move all of them out of her apartment.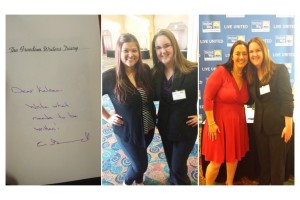 Pitching on Social Media: Like or Dislike
03.18.14
By Wendy Gustama
For the last month, you've been trying to get on a reporter's radar with no luck. You decide to turn to social media, but wonder if you're crossing a line where access is denied for PR professionals. We've all been there. With the changing landscape of media, things are bound to get a bit fuzzy. To get a clearer picture about pitching on social media, we contacted a handful of journalists and bloggers in the Orlando area to get their perspective. Here's what they had to say:
I'm in favor of being pitched via social media, but I think it should be in addition, rather than instead of more traditional channels. We tend to get so inundated with email that it can only help to use other available avenues to get your story heard. Adding social media to the package seems like a wise move to me.
                                                                                 David Breen, Orlando Sentinel
I would tend to vote nay on pitching journalists via social media. Personally, I would rather receive pitches in a more private manner such as email or through the postal service. Even a private message on LinkedIn would be okay, but I probably would delete pitches on Twitter or Facebook. I try to keep my personal and work lives somewhat separate. If a PR professional was to contact me for networking purposes on LinkedIn, or even on Twitter, that would be acceptable. However, I reserve Facebook for individuals I know in person and contact regularly for social purposes.
            Brittany Davies, Orlando Restaurant Examiner
In the case that you don't have my email, I'm OK if you send me a quick Facebook message via my professional page. I'm always checking all of my social media channels, so if it's a good story, I want to find it. Just make sure you don't pitch me on all mediums (e.g., Facebook, Twitter, Instagram, etc.) In my opinion, that would be too pushy. Another way to use social media would be sharing Facebook links or Twitter handles in your pitch so I can do some quick and easy research.
Paula Machado, Infomás (News 13 Hispanic affiliate)
It's fun to gauge social media to see if our readers and followers might be interested in a topic. On the other hand, it's nice to feel exclusive and get an inside story or scoop via email. We try to work with PR companies as they have been very supportive of us!
Brian Wilson, Central Florida Top 5
@TheNiceBrian and @CentralFLTop5
Instead of the "Do Not Enter" sign we imagine in our minds, the barrier likely says "Approach with Caution." As with all media outreach, pitches should target reporters based on their beat and preferred method of contact. Test the waters with your contacts and you'll figure out what works best.
Wendy Gustama is an Account Executive at Costa Communications Group.          
The Six Best Mistakes I've Ever Made
03.11.14
Check out Doreen Overstreet's guest post for Geben Communication about her favorite mistakes in public relations.
The Six Best Mistakes I've Ever Made
In 12 years working at a PR/marketing agency, I've had a lot of wins, but I've also made a lot of bad calls. Everyone says, "Learn from your mistakes," but you can't begin to learn from your faults if you don't take the first step: acknowledging them.
In Carl Honoré's excellent book The Slow Fix, there's a chapter titled "Confess: The Magic of Mistakes and the Mea Culpa." He makes a case to embrace your own fallibility because in doing so, you can make long-term improvements.
So here's my confession – warts and all – and you'll see why they are the best mistakes I've ever made.
Read more here!