#TheDownSideofPromotedHashtags
01.31.12
McDonald's fell into some hot grease water recently when the company's foray into promoted hashtags was met with much negativity. Their #MeetTheFarmers push caught my eye and I thought it was a genius idea. With the focus on local everything nowadays, it seemed the perfect medium to share the short YouTube videos introducing consumers to the farmers behind the lettuce, tomatoes and beef on the ever-popular Big Mac. The idea was focused and used the buzz of a timely topic. However, a few days later, McDonald's went back for seconds with the promoted hashtag #McDStories – which sounds more like an organic trend (e.g., #WhenIWas15, #MiddleSchoolMemories) than one that, more than likely, came with a high menu price. Without getting into too much detail, the "stories" shared were not ones any restaurant would want associated with them.
Walgreens also experienced a similar – while not as public – situation recently when they paid to promote #ILoveWalgreens to the top of the Twitter trends list. There's already a lot of commentary about what happened with McDonald's and Walgreens, so I won't add to it … but instead raise a question: What does this mean for one of Twitter's most profitable offerings, the promoted trend?
As I type this, #GetSerious* is currently being promoted. Assuming it was maybe a tagline to an upcoming movie, I clicked on it to find that it's actually being promoted by the U.S. Chamber in an effort to encourage the White House to "#GetSerious about jobs." The hashtag – which has probably been used in the past organically – is vague and from what I can tell, being used to talk about everything but jobs. Whether this was an intentional "hijacking" or not, many Twitter users seem to have misunderstood the meaning behind it.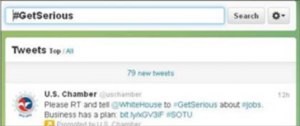 As with all things, promoted trend failures will undoubtedly get more media exposure than the successes – but with that said, will the recent examples deter other brands from taking on the risk associated with such a purchase? And if that's the case, how can Twitter rectify the situation by making it a more controlled environment?
As a PR professional, will you think twice about recommending promoted trends to your client?
*The promoted trend "#GetSerious" has since been replaced by #TellTheWhiteHouse – a much less vague call to action, in my opinion.
Will iBooks Spell "The End" for Conventional Textbooks?
01.26.12
Though my college career may have ended several years ago, I vividly remember how my shoulders ached after long days of lugging textbooks all over campus.
But now that Apple has debuted the "textbooks" category in its iBooks app, it's only a matter of time before book-induced muscle pain is a thing of the past. As Mashable reported, Apple users downloaded 350,000 books from partners McGraw-Hill, Pearson and Houghton Mifflin Harcourt in the first three days the category was available. And with book prices starting at $14.99 or less, it's no surprise that cash-strapped students find this option appealing.
To me, the most intriguing aspect of the story is that another 90,000 users downloaded the company's e-book authoring software, iBooks Author, which allows people to create their own textbooks that incorporate multimedia and 3D content. Although Publishers Weekly reports that the digital self-publishing market has seen steady growth for several years now, the college textbook niche has been mostly untapped.
I'm interested to see whether the increasing availability of digital textbooks will make more students spring for the iPad or other tablets. If I were back in college, I'd be tempted. And I'll be watching to see whether publishers take this as a cue to employ innovative marketing strategies to set themselves apart from others in the marketplace.
What do you think? Will brick-and-mortar college bookstores – and the weighty tomes they sell – eventually go the way of computer punch cards and library card catalogs? Or will they continue to be staples of the college experience?
Mary Tindall is a staff writer at Linda Costa Communications Group. She shudders to think of how much she spent on textbooks while earning her journalism degree at the University of Central Florida.