The Art of "Writing Short"
04.25.14
By Mary Tindall
While I was driving around town recently, two bus stop ads caught my eye. Their designs weren't flashy, but the copywriting was spot-on.
One made me smile: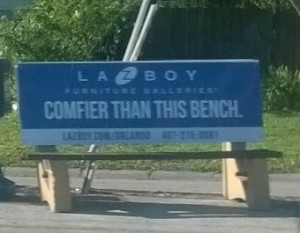 And this one from the Adult Literacy League made me think: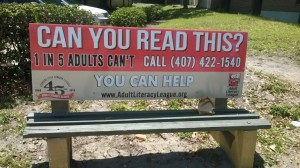 Both ads are great examples of how "writing short" can make a strong impact. Condensing your message is an art that takes discipline. As French mathematician, writer and inventor Blaise Pascal famously remarked to a friend, "I would have written a shorter letter, but I did not have the time."
Whether selling a comfy chair … recruiting nonprofit volunteers … or sending an email, it's not the length of the message that matters – it's the substance and style.
How do you keep your writing "short and sweet"? Have you seen any interesting examples?
Mary Tindall is an account executive on CCG's PR team.
Quote Me on This
04.07.14
By Jenni Izzo
As communicators, we're naturally drawn to quotes and the written word, so it's no wonder my office shelves are adorned with them. Between Pinterest and Instagram, I add new ones to my collection regularly. Many of them inspire me at work, so I wanted to share a few of my current favorites:
She believed she could, so she did.
Do what you love … love what you do.
Your dream job doesn't exist. You must create it.
She turned her can'ts into cans and her dreams into plans.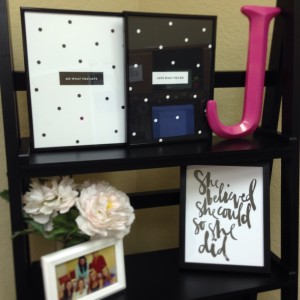 Top: SS Print Shop | Bottom: Jasmine Dowling
What quotes are currently inspiring you?
–
Jenni Izzo is a senior account supervisor on CCG's PR team.
Agency Adds Potluck Division to the Mix
04.01.14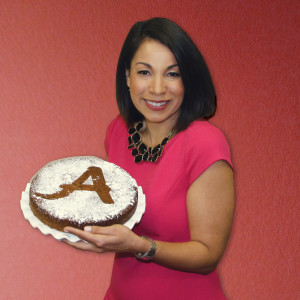 Linda Costa Communications Group (LCCG) recently added a Potluck Division to its agency. The department will provide potluck lunches to various businesses around the Central Florida area, with a focus on promoting employee team building, happiness and healthy food options. Monthly potlucks have been a tradition at LCCG since April 2012.
"We all enjoy eating," said Linda Costa, CEO. "So this is a natural extension of our brand. It's a win-win. And it's so out-of-the-box it should be in the box."
Anika Roberts, chef extraordinaire, will oversee the division. Roberts has more than a decade of culinary experience – and her specialties include homemade ice cream, soufflés and salads to amaze the senses. Requests for meals will need to be made at least two weeks prior to the date of your event. For more information, visit www.costacg.com.
If you haven't guessed it yet … April Fools! Although we do share a passion for food, we think we'll keep the tradition in-house … for now!