What's your phone strategy?
04.03.09
To paraphrase Zappos CEO Tony Hsieh, we don't have a phone strategy, so why do we need a social media strategy?
Well, maybe some companies would benefit by setting aside some time to think about their phone strategy.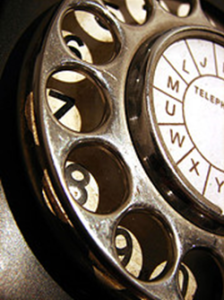 We spend a lot of time talking about the importance of social media — ROI, guidelines, authenticity and transparency. But, when was the last time you had a real conversation about your phone etiquette? Is your phone number easy to find on your web site? If not, what does that say to customers? How many times does the phone ring before someone answers it? What if someone asks a question and the person on the phone doesn't know the answer? Can employees seamlessly "escalate" a call if it requires input from management?
These questions aren't groundbreaking, but the answers probably get lost in the day-to-day shuffle. The telephone is still a crucial part of delivering a company's brand. The next time you're in a meeting talking about your social media strategy, spend five or 10 minutes discussing the telephone. You might be surprised by what you learn.
Photo Credit: aussiegirl