Roll a Mile in My Shoes
10.12.12
It's National Disability Employment Awareness Month – time to consider the variety of accessibility issues many American workers tackle each day, as well as the contributions they offer our economy and communities.
It's a topic I've been forced to ponder in the past three months, as I've recovered from surgery to repair a broken foot bone. I spent two months rolling around on this trusty "knee walker" and over a month in a walking boot. My new limitations made the simple things I'd always taken for granted — getting my kids to school, grocery shopping and driving to work — difficult, or in some cases, downright impossible.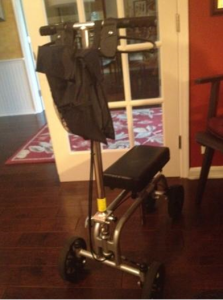 Fortunately for me, being a writer doesn't require two working feet. And my kind, considerate colleagues helped me get in and out of the office … even holding an umbrella for me on stormy days.
Fortunately for them, I mustered enough strength to avoid acting like Michael Scott after he accidentally burned his foot on a George Foreman grill in this legendary episode of "The Office."
But as I "scootered" and hobbled around the office, I learned that nearly every aspect of my day — at home and at work — was affected by my disability. Of course, my temporary experience in no way compares to the struggles braved by those with enduring physical disabilities at work, home and public places.
Fortunately for those who do confront significant accessibility challenges, Linda Costa Communications Group client The Center for Independent Living (CIL) offers a wide range of training and resources in pursuit of its mission to promote inclusion and eliminate barriers to independence. And with events such as this weekend's "Stroll 'n' Roll," CIL gives folks the chance to test their aptitude at navigating the world in a wheelchair.
What better way to deepen your understanding of others' mobility challenges than facing your own?
Staff writer Erin Heston is grateful to be walking again. And that the nickname "Scooter," bestowed by her kind, considerate colleagues, did not seem to stick.