CCG 30 Acts of Kindness: Pet Rescue by Judy
04.26.16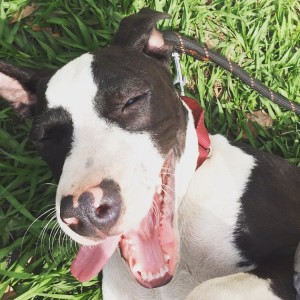 At Costa Communications Group, giving back to the community has always been part of who we are. And to honor our 30th anniversary, our entire team has committed to completing "30 Acts of Kindness" to give back to the community that we're so fortunate to be part of.
The CCG team recently had the privilege of volunteering at Pet Rescue by Judy, a nonprofit, no-kill animal shelter in Sanford. The moment we walked in the door, we were greeted by several dogs big and small, all just as excited to see us as we were to see them.
We took our new furry friends on long walks, stopping only for the occasional belly rubs – which, as you can see by the look on this pup's face, were very much appreciated.
While interacting with these dogs was definitely the highlight of our visit, the moment that warmed our hearts the most was when some of our team members witnessed an adoption take place. One lucky dog went home with a new mom, and we were there to see it first-hand.
Thank you to Pet Rescue by Judy for the opportunity to spend time with these sweet, funny and all-around adorable dogs! For information on how you can volunteer at Pet Rescue by Judy, or to learn about adopting and fostering their animals, please visit www.PetRescueByJudy.com.