Junior Summit Award Winner: Simone Behar
10.20.10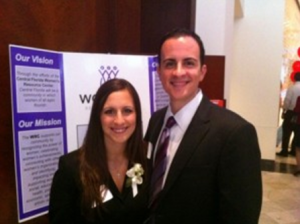 Congratulations to Linda Costa Communications Group 's Assistant Vice President of Marketing, Simone Behar, for being named the Junior Summit Award winner by the Women's Resource Center of Central Florida. Simone was chosen based on her leadership and contribution to the Central Florida community by performing countless hours of community work.
Since joining Linda Costa Communications Group six years ago, she has been the "cheerleader-in-chief" for our Meals on Wheels route and has spearheaded many of the firm's pro-bono initiatives.
However, Simone's commitment to the community doesn't end when she leaves the office. She was one of the founding members of the Give Hope Foundation, a local non-profit organization that provides support to children and families who are battling childhood cancer. Through her involvement in Give Hope, she became an avid volunteer at Camp Boggy Creek and spends many of her weekends being a "camp counselor" at the organization.
Fluent in Greek, Simone was also chosen in 2009 as the Holy Trinity Greek Orthodox Church of Greater Orlando's most active young adult, and was awarded the "Archangel Michael" honor for her many years of volunteer service.
Simone's infectious smile and warm, giving heart are contagious. We're thankful for her contributions to both our community and company.