Women-Wise
10.21.10
Did you know it's National Women's Business Week? Admittedly, these days, there is a "week" for everything. But, I couldn't help but feel a little twinge of pride when I read that this morning.
As you may or may not know: Linda Costa Communications Groupwas founded by Linda Costa almost 25 years ago. Under the company's original name, Wordwise, Inc., Linda began her business career out of the spare bedroom in her home … writing technical and creative copy for a variety of clients. Two years later she added design to the company's repertoire. Today, her "startup" agency is creating big-time results for some of Central Florida's most influential businesses.
It seems more and more successful women business owners, like Linda, are having a substantial impact on the evolving landscape of today's workforce.
According to MomsRising, women-owned businesses:
Employ 23 million people (16 percent of the workforce, which is nearly double the number of those employed by the 50 biggest companies in the country combined);
Generate $3 trillion in revenue; and
Are more likely to offer supportive, *family-friendly benefits like flex-time and profit sharing.
Pretty powerful numbers. So, if you know a woman in the workforce, give her a shout-out. I'm proud that I work with some of the smartest women I know. Who are you celebrating this week?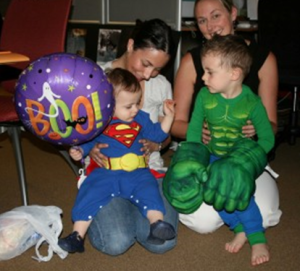 *Linda Costa Communications Group offers flex-time and holds annual holiday parties and activities like "trick-or-treating." Above is a coworker and I with our toddlers at last year's Halloween celebration.