Go Red for Women!
02.03.12
According to the American Heart Association (AHA), heart disease kills more women than all cancers combined. But, only one out of every six women believes heart disease is the greatest threat to their health.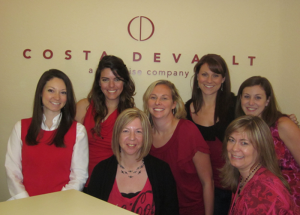 The Linda Costa Communications Group ladies are sporting red today in support of the Go Red for Women campaign, which aims to raise awareness about the dangers of heart disease.
Thanks to the AHA, the following are "Life's Simple 7," tips that will help you live a healthier life.