The SunRail Experience
07.21.14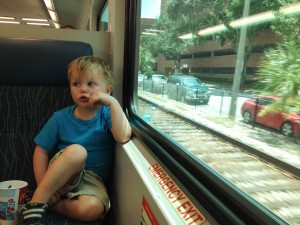 By Rob Humphreys
Most 4-year-old boys love trains. Mine is no exception.
Somehow, even before SunRail debuted May 1, he was well aware of its existence, eagerly wanting to know when we could test it out.
It was late June before that happened, but the wait was well worth it. We hopped on at the Florida Hospital station in the mid-afternoon and headed north to DeBary, where we turned around and completed our loop. All in all, it took about 90 minutes and cost $7.50 for my roundtrip ticket (he rode free).
Speaking as a dad along for the ride – filtered through the lens of someone in marketing and PR – here are my observations:
Parents looking to spend quality time with their kids have an excellent opportunity with SunRail. It's super clean, exciting and inexpensive. My son stayed mesmerized nearly the entire journey, bouncing from seat to seat and pointing out all sorts of landmarks along the way — like every baseball field.
 I'd estimate that 75 percent of passengers were part of families doing the exact same thing. Just out for a joyride. I immediately recognized a huge niche market – at least for the off-peak hours.
 It was a warm summer day, and I didn't have a drink. So I got really thirsty. But there was no way to quench it. A vending machine – either on the train or at my station – would have been a godsend. Don't judge me here, but I was tempted to sip water from the bathroom faucet.
 People absolutely love SunRail. The brand is (pardon the pun) warmly embraced. Folks seem to take great pride in the fact that our community has a fun new toy that kind of puts us on par with larger cities when it comes to mass transit. Helping matters, the cars are well designed, modern and, I can't emphasize this enough, clean, clean, clean.
 Compared to what I've seen on subways or similar trains, SunRail definitely has opportunities to generate more revenue through in-car ad sales. My car had two ad spots, I believe. And even though it was nice not to be bombarded with zillions of messages, as travelers, we've all come to expect it.
 Finally, the Sun Rail experience reminds me of the pre 9/11 days when people would take their young kids to Orlando International Airport, just to ride back and forth on the trams. Now, of course, security measures have taken that joy away from us. But for a new generation, SunRail is well positioned to provide that same kind of magic.
All aboard!
Rob Humphreys, a writer and editor with Costa Communications Group, has more than 20 years of experience in writing, editing, design, management, marketing and public relations. Rob has worked at several magazines and newspapers, including the Orlando Sentinel, and served as marketing director for the Associated Press Managing Editors. His writing has appeared in the Chicago Tribune, San Francisco Chronicle, Richmond Times-Dispatch, Houston Chronicle, Tampa Tribune, and Rollins College magazine.