Knights + Solar Bears = Friends
10.23.14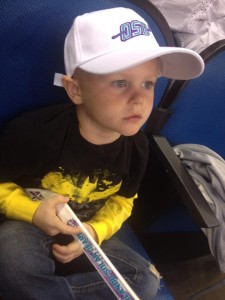 By Rob Humphreys
At sporting events, most adults don't (consciously) think twice about the ubiquitous branding messages vying for their attention. Until a wide-eyed 5-year-old poses a simple question.
"Daddy," my son Cade asked me, pointing to a pair of logos on the scoreboard at Amway Arena, "why is the UCF Knight guy up there with the Solar Bear?"
Hmmm. Well, son, that's because the University of Central Florida has a special marketing partnership with the hockey team that … blah, blah, blah.
At least that's what his young ears would have heard if my default "logical" side had spoken.
Instead, I thought for a second and came up with this gem: "The Knights and Solar Bears are friends."
He seemed to understand that.