C.S. Lewis' Top-Secret Mission Had War-Time Elements of PR, Marketing
01.05.16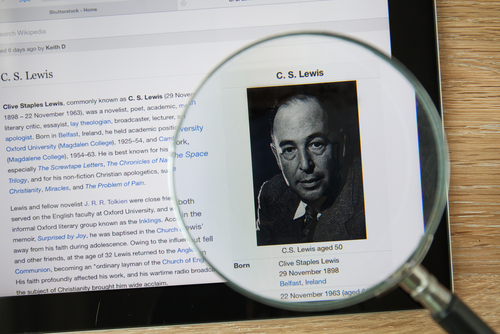 By Rob Humphreys
Most people might recognize C.S. Lewis as author of The Chronicles of Narnia series. To others, he's one of the 20th century's greatest theologians and academic minds.
Now, according to a recent story by Harry Lee Poe in Christianity Today, Lewis can also be counted as a secret agent for the British government during World War II. For even the most die-hard Lewis historians, and there are many, this connection to MI6 comes as a shocking revelation – but one that makes sense, given newly unearthed evidence.
So, why am I writing about this on the website of a public relations and marketing agency?
Because it's the nature of Lewis' top-secret mission that I find so fascinating, as it has direct ties to something our industry is especially good at – crafting compelling messages that influence people in profound ways. Yes, Lewis – master of the English language – can best be described as a literary secret agent, using the power of his pen (and voice) to fight Hitler's totalitarian regime.
For a fellow writer like me, that's pretty cool. Here's how it all went down.
In 1940, the German war machine was sweeping through Western Europe and Scandinavia. But the Nazis had yet to send troops to Iceland, a strategic island in the North Atlantic that would have been an ideal naval and air base for German attacks on England. Instead, the British launched a surprise invasion and got to Iceland first.
As Poe writes in his article, holding the island "depended upon the goodwill of the people of Iceland, who never had asked to be invaded by the British. … This was the strategic situation in which C.S. Lewis was recruited. And his mission was simple: To help win the hearts of the Icelandic people."
At the advent of World War II, Lewis was already a popular Oxford professor and one of the most influential writers of his day. He also happened to be fluent in the Icelandic language and steeped in its heritage. Even though Lewis seems to have taken this secret to his grave, British intelligence approached him to record a clandestine message that would be broadcast to the people of Iceland.
"And what did an Oxford don have to say that might help turn the tide of war in Britain's darkest hour?" Poe writes. "He spoke on the subject 'The Norse Spirit in English Literature.' Lewis provided a touchstone between the Norse people and the English."
That's right, "The Norse Spirit in English Literature." Lewis wasn't the hard-dashing, "shaken, not stirred" precursor to James Bond. He was more like someone trying to market a political alliance – based on shared culture and values – that could help save the free world. And he did it through Viking-era literature, of all things.
I won't go into all the details here, but in his article Poe does a fabulous job of documenting Lewis' logic and PR-like approach. He also explains how this new information finally came to light and what it might mean for Lewis' already-monumental legacy.
Rob Humphreys is senior writer and editor at Costa Communications Group.