A Year of Growth
12.12.16
Celebrating my first anniversary with CCG, I'm feeling a little nostalgic about "where it all began." For me, CCG has been a place of learning and growth, both professionally and personally.

I was recently promoted to an account executive position, and with this honor comes a new level of responsibility. While I have retained some responsibilities from my previous position, I am also being tasked with new ones every day. I've found this transition from account coordinator to account executive has become a balancing act of relinquishing old, familiar tasks while welcoming new, unfamiliar ones. To young professionals, this can seem daunting and, at times, intimidating.

For those in a similar position, I wanted to share some advice that I plan on taking myself.
• Leverage your mentors. Look to seasoned colleagues for advice and insight.
• Ask questions. You are not expected to know everything.
• Get out of your comfort zone. Push yourself to take on new challenges.
• Be confident. Believing in yourself is the first step to success in a new position.

I believe in order to be successful in a new role, a person must have the confidence to push themselves outside their comfort zone. I also believe this will be my biggest challenge in the coming weeks as I transition into this elevated role. Each day there is a new task, a new deadline and a new adventure to learn from. A year from now, I hope to look back and think, "What an exciting time in my career!"

Walking into work this morning, I realized how blessed I am. I work for an agency that cultivates and inspires professional growth. I am surrounded by colleagues who have been where I am now in their careers, and are always more than willing to offer advice and guidance to help me achieve my goals. I have already learned so much in one year. But I know I still have a long way to go. I look forward to the new challenges that await me and the experiences I will gain from them as I continue to progress in my career.

Kelly Cole is an account executive on the PR team.
When Curiosity Leads to Passion
08.17.16
When Curiosity Leads to Passion
As I celebrate my fifth anniversary at CCG this week, I've been thinking a lot about staying power. What aspects of a company encourage employees to stay – and thrive – over the long-term? For me, CCG has offered a valuable mix of challenging work, growth opportunities, talented colleagues, support and flexibility.
But there's something even more fundamental that's woven into our DNA as a company. I think this quote from best-selling author Elizabeth Gilbert sums it up nicely: "If you can let go of passion and follow your curiosity, your curiosity just might lead you to your passion."
This quote resonates with me because it reflects my story. When I came to CCG, public relations was my "plan B" after exiting the unstable journalism industry. I quickly realized that PR is one of the best career paths for people who are chronically curious – which is me, to a T!
Working at CCG is fulfilling to me because no two days are exactly the same. A recent week included pitching the media about robotic surgery, conducting primary research aboard a commuter rail line, writing a PR strategic plan, taping an in-studio interview for a nonprofit client and mentoring fellow team members … just to hit the highlights! Every day brings new opportunities to immerse ourselves in our clients' industries, adapt to the evolving media landscape and position our clients for success.
What sets CCG apart is how much we encourage and reward curiosity … which, in turn, translates to passion for our clients and the work we do every day. It's a virtuous cycle that creates true staying power … and I'm thankful to experience that at CCG.
Mary Tindall is a senior account executive on Costa Communication Group's PR team, and we couldn't be more thrilled for her to be celebrating her five-year anniversary with us.
CCG 30 Acts of Kindness: Pet Rescue by Judy
04.26.16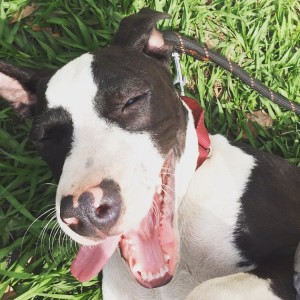 At Costa Communications Group, giving back to the community has always been part of who we are. And to honor our 30th anniversary, our entire team has committed to completing "30 Acts of Kindness" to give back to the community that we're so fortunate to be part of.
The CCG team recently had the privilege of volunteering at Pet Rescue by Judy, a nonprofit, no-kill animal shelter in Sanford. The moment we walked in the door, we were greeted by several dogs big and small, all just as excited to see us as we were to see them.
We took our new furry friends on long walks, stopping only for the occasional belly rubs – which, as you can see by the look on this pup's face, were very much appreciated.
While interacting with these dogs was definitely the highlight of our visit, the moment that warmed our hearts the most was when some of our team members witnessed an adoption take place. One lucky dog went home with a new mom, and we were there to see it first-hand.
Thank you to Pet Rescue by Judy for the opportunity to spend time with these sweet, funny and all-around adorable dogs! For information on how you can volunteer at Pet Rescue by Judy, or to learn about adopting and fostering their animals, please visit www.PetRescueByJudy.com.
CCG Takes Home Five Image Awards
04.19.16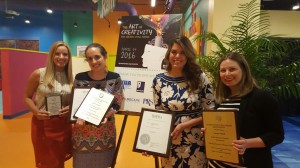 Every year, the Florida Public Relations Association Orlando chapter recognizes outstanding public relations programs during its Image Awards gala. This year's event was held at the Crayola Experience at Florida Mall, and CCG was proud to take home five Image Awards for campaigns completed on behalf of our clients.
In the Public Relations Programs category, CCG received:
– Two Image Awards
– Two Awards of Distinction
– One Judges Award
Fittingly, the gala's theme was "The Art of Creativity" – a timely opportunity to celebrate the clients and projects that inspire us each day. Congratulations to all of the winners, and thank you to FPRA for a fantastic evening!
C.S. Lewis' Top-Secret Mission Had War-Time Elements of PR, Marketing
01.05.16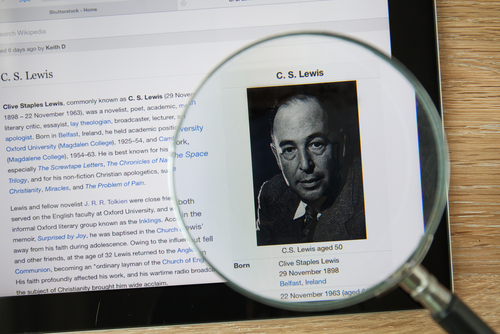 By Rob Humphreys
Most people might recognize C.S. Lewis as author of The Chronicles of Narnia series. To others, he's one of the 20th century's greatest theologians and academic minds.
Now, according to a recent story by Harry Lee Poe in Christianity Today, Lewis can also be counted as a secret agent for the British government during World War II. For even the most die-hard Lewis historians, and there are many, this connection to MI6 comes as a shocking revelation – but one that makes sense, given newly unearthed evidence.
So, why am I writing about this on the website of a public relations and marketing agency?
Because it's the nature of Lewis' top-secret mission that I find so fascinating, as it has direct ties to something our industry is especially good at – crafting compelling messages that influence people in profound ways. Yes, Lewis – master of the English language – can best be described as a literary secret agent, using the power of his pen (and voice) to fight Hitler's totalitarian regime.
For a fellow writer like me, that's pretty cool. Here's how it all went down.
In 1940, the German war machine was sweeping through Western Europe and Scandinavia. But the Nazis had yet to send troops to Iceland, a strategic island in the North Atlantic that would have been an ideal naval and air base for German attacks on England. Instead, the British launched a surprise invasion and got to Iceland first.
As Poe writes in his article, holding the island "depended upon the goodwill of the people of Iceland, who never had asked to be invaded by the British. … This was the strategic situation in which C.S. Lewis was recruited. And his mission was simple: To help win the hearts of the Icelandic people."
At the advent of World War II, Lewis was already a popular Oxford professor and one of the most influential writers of his day. He also happened to be fluent in the Icelandic language and steeped in its heritage. Even though Lewis seems to have taken this secret to his grave, British intelligence approached him to record a clandestine message that would be broadcast to the people of Iceland.
"And what did an Oxford don have to say that might help turn the tide of war in Britain's darkest hour?" Poe writes. "He spoke on the subject 'The Norse Spirit in English Literature.' Lewis provided a touchstone between the Norse people and the English."
That's right, "The Norse Spirit in English Literature." Lewis wasn't the hard-dashing, "shaken, not stirred" precursor to James Bond. He was more like someone trying to market a political alliance – based on shared culture and values – that could help save the free world. And he did it through Viking-era literature, of all things.
I won't go into all the details here, but in his article Poe does a fabulous job of documenting Lewis' logic and PR-like approach. He also explains how this new information finally came to light and what it might mean for Lewis' already-monumental legacy.
Rob Humphreys is senior writer and editor at Costa Communications Group.